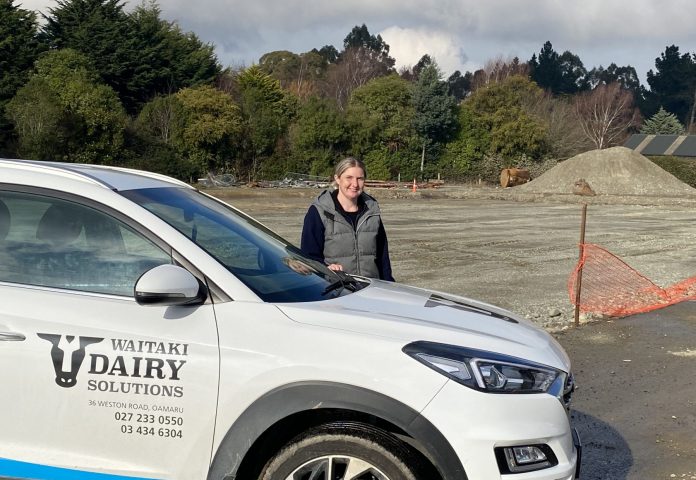 Waitaki Dairy Solutions is starting again from the ground up.
The company, which provides repair, installation and maintenance services to the dairy industry, has demolished its former premises and is rebuilding on the same site with a building about three times the size.
Missy Duncan, who owns the business with husband Brett, said the former North Otago Ag Centre building had too many issues to repair, and builders had advised them to demolish and start again.
The couple are originally from Temuka, and Mr Duncan had worked for his parents, who ran a much larger business, Duncan Engineering, there.
Mr Duncan bought the Oamaru branch of the business off his parents seven years ago, and the pair moved to Oamaru, with their three children, Cody , Lockie and Sophia, now 15, 10 and 8.
In 2018, after leasing at two previous Oamaru sites, the Duncans bought the Weston Rd premises.
Mr Duncan had been in the engineering industry for 22 years. He worked for his parents after school before leaving to do an engineering apprenticeship elsewhere, and then returning to the family business for 12 years, eventually buying in.
Mrs Duncan had also worked for Duncan Engineering for about three years, and learned on the job, she said.
''I'm a florist by trade, so this is very out of my comfort zone.''
The dairy industry was a demanding one, and the company offered a 24/7 service to customers.
''We keep the dairy farmers going.
''Four o'clock in the morning they can ring us, and midnight they can ring us. You don't know when they'll ring.''
The industry was also an ever-evolving one, and the company had to adapt to the new regulations that were placed on dairy farmers, she said.
The new premises, as well as being much bigger, contained a 327sq m workshop, plus office and staffroom space, available for lease. The Duncans were hoping it would suit abusiness in a similar industry.
The weather had been the biggest hold up to the build, but Mathieson Excavation had been great about fitting them around the rain to prepare the site, she said.
The retail showroom was cleared out mid-May, and had gone mobile, sales person Michelle Gard delivering directly to farms. Demolition on the building began the end of May, and was completed about a month ago.
Calder Stewart was due to begin building work on Monday, depending on the weather, and was hoping to be finished by mid-February, she said.
''This is our really busy season, so all our boys are out on-site. It seems mad to do it when you're really, really busy, but because it's all of our on-site work, they don't really need this spot.''
Two sheds had been retained to continue with engineering work. The machinery had gone into storage, and Mrs Duncan was working from home.
Once the new premises were up and running, things would be much the same as previously, but with more space, she said.
The couple employed seven staff, but were on the lookout for more. They needed engineers, labourers, dairy technicians, machine testers, and an apprentice.
Although the hours were ''extremely long'', they enjoyed the business.
''Nothing isthe same. Every day is different and it can change with one phone call. And our clients, we've got some really lovely clients.''
Like every business, the impact of the Covid was still being felt, and it had been a tough few years.
''We've been extremely lucky that we can still work, but it's just made it more difficult.
''It has been stressful, because it's not only me and my family that I have to look after, it's my staff's families. So I couldn't just shut the doors, we had to keep moving, we had to find different suppliers, we had to make sure we had everything.
''We have to order in so much in advance now, we have to order in twice as much, and we have to carry more stock.''