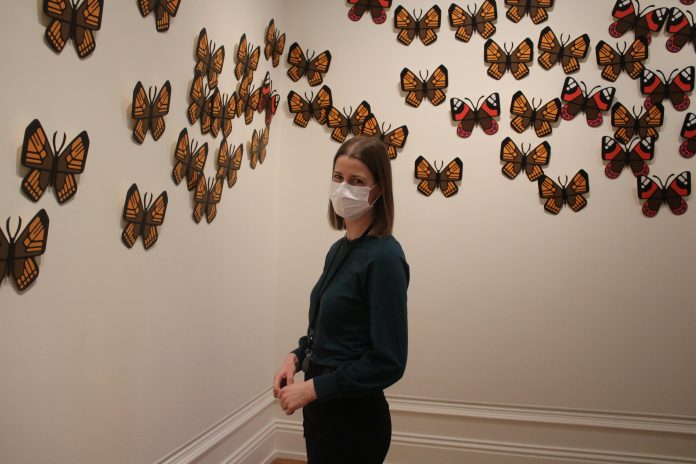 The Forrester Gallery's new exhibition is fluttering the past into the future.
Dunedin artists and designers Hannah Joynt and Gavin O'Brien have brought butterflies and moths to life in art form through their Kiwiana style exhibition, Flutter.
The 123-piece collection, which opened on July 9, has red admiral, tussock and copper glade butterflies and moths created from bamboo plywood and paint. It is based on Otago artist Enid Hunter's 1970s stamp series — which ultimately brought the artists, who both work at the Otago Polytechnic, together.
Joynt said O'Brien had been looking at the idea of working with a butterfly motif when she ran into him at work, and decided to collaborate.
''It was one of those spontaneous creative conversations. Passing each other in a hallway at work, we found we had a shared love for these particular stamps,'' Joynt said.
It was then the project ''started to come to life and we began experimenting and developing the work you see in the show''.
In 2018, they held a small exhibition of tussock butterflies at a conference in Hawkes Bay, but the Forrester Gallery is the first place to host the full exhibition Flutter.
Joynt previously exhibited work at the gallery and was inspired by the high ceilings and dimensions and wanted to see how the butterflies would work in the space.
''Using this many butterflies to create a big immersive installation was the next step for our project and we are just thrilled with the outcome.
''I always want my work to bring delight to my viewers because that is how I feel when I am making art and I think Flutterhas achieved this.''
Forrester Gallery curator Imogen Stockwell said she knew the exhibition was going to be effective in the gallery's space.
It was ''uplifting'' and had a sense of nostalgia.
''[It's] thinking of something 1970s New Zealand and bringing it into our world today but in a valuable way,'' Stockwell said.
The exhibition also has a ''creation station'' where people can draw their own butterflies and Forrester Gallery engagement and education officer Elizabeth King held activity days this week for children to explore the art and science of butterflies.
Each piece in the collection is also for sale and Stockwell loved the packaging, which included stamps.
''I think it's really cool when you see artists take on that slightly more commercial side. This is how artists make money,'' she said.
''I think it's cool when you get a bit of everything.''
It also supports the environment, with 10% of each sale going towards AhiPepe MothNet, a conservation project aiming to engage teachers, students and families with moths. The exhibition is open until September 4.