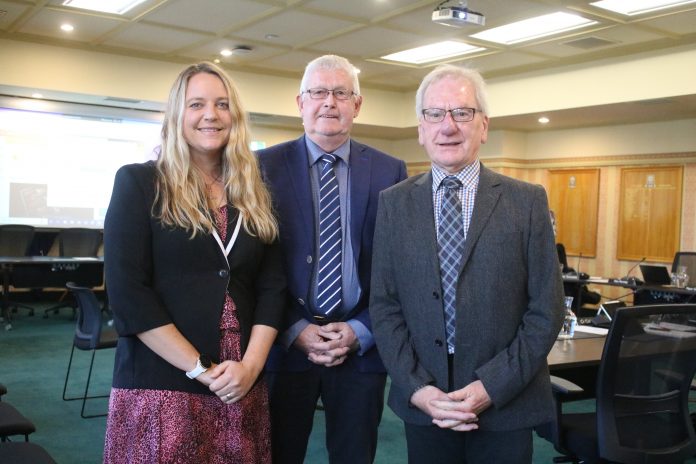 She's looking forward to being ''just Mel'' again.
Deputy mayor Melanie Tavendale has farewelled the Waitaki District Council after a three-term tenure, choosing not to seek re-election in this year's local body elections.
In her valedictory speech on Tuesday, Cr Tavendale recalled how she morphed into ''Cr Melanie Tavendale'' on the day she got elected in 2013 — ''polite, responsible and respectable''.
''It's crazy what this job does to people,'' she laughed.
She joined the council alongside fellow incumbent councillors Colin Wollstein and Bill Kingan, who also finished this week and, through both tears and laughter, the trio shared the highs and lows from their experiences.
At the time of her election, Cr Tavendale's two children, Josie and Declan, were aged 2 and 6 months, respectively.
They grew up ''playing under the council table'' and attended yesterday's council meeting.
''I'd like to say I've matured somewhat, learnt a few lessons, and in my own way, have made a difference.''
She was particularly proud of the development of the Oamaru Harbour bike park, the Waitaki Museum and Archive projects, serving on the Local Government New Zealand (LGNZ) National Council and speaking at this year's LGNZ national conference.
It was the people that meant the most to her, including her fellow councillors.
''You're a frustrating bunch. I've lost plenty of battles around this council table but I still love you all,'' she laughed.
Cr Wollstein never imagined he would be a three›term councillor, but he enjoyed representing the Oamaru ward.
He was proud to support many projects from the Alps 2 Ocean cycle trail development to improving risk reporting and balanced budgets, and the harbour area redevelopment.
There were also projects he was disappointed not to get off the ground, and he warned colleagues they could see him again during annual plan submissions.
He thanked voters for ''ticking my name for three elections in a row''.
''I hope that I have lived up to your expectations,'' Cr Wollstein said.
Cr Kingan thanked his Corriedale ward for electing him, saying it had been an ''honour and a privilege'' to represent its residents.
He said it was time to move on to the next chapter of his life.
''I plan to play more bowls, catch a few fish, play my bagpipes a little better, see a bit more of the world and follow my family's endeavours. I'll miss this place.''
Ahuriri Community Board chairwoman Vicky Munro also stepped down after nine years and spoke via Zoom, thanking the ''spirited'' people in her community.
Mayor Gary Kircher thanked them for their contributions to the district.
– Voting in the local elections closes tomorrow, with full coverage of the results in next week's Oamaru Mail.