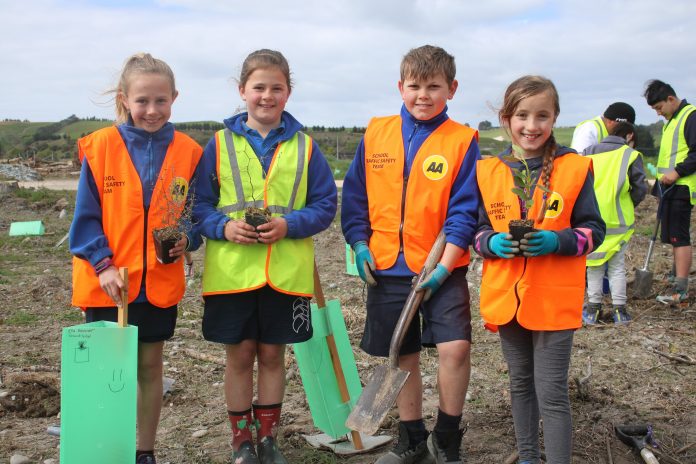 Te Runanga o Moeraki is braiding together the cultural significance of the Waitaki Valley.
The runanga is undertaking a massive Whiria Te Waitaki Project, restoring the culture, enhancing biodiversity and returning mahinga kai to Te Puna a Maru, known as Bortons Pond, and Korotuaheka, near the Waitaki River mouth.
The two sites cover 375ha and, after receiving funding from the Land Information New Zealand (Linz) Jobs for Nature Covid recovery package, runanga members created the project plans.
After going through consultation phases with local irrigation companies, and the Waitaki District Council, and with the support of Linz and the Department of Conservation, the runanga got the restoration under way, project manager Kelly Governor said.
Last Friday, the runanga's kaiaka taiao (indigenous rangers) and Te Pakihi o Maru, Oamaru Intermediate, Fenwick, and Waitaki Girls' High School pupils joined forces to start clearing some of the area at Te Puna a Maru and planting native trees. Waitaki Boys' was also involved in the project, but pupils had other commitments last week.
Four stations were set up for the pupils to learn about trapping, monitoring, planting and guarding the plants.
The first school visit to the site had been a success and enhanced the wider connection to it.
''The kids seem genuinely really interested in what's going on,'' she said.
''They're answering lots of questions and they're thinking about it . .. I think it's really just the start.
''It's a connection to site and a way for the schools to interact with the runanga.''
The connection between the schools and runanga came through Te Pakihi o Maru principal Stacey Honeywill, who was closely aligned to the runanga, and her husband, Phil, was helping with the clearance work.
''It's just about the whanau connection is probably the main thing. It was a natural fit.''
Mrs Honeywill, who is also the Kahui Ako lead, said it was important for the schools to support the runanga's projects, while educating the pupils on their surroundings.
''We decided last term that we wanted to give something back to our runaka and have a reciprocal relationship, as well as teaching our tamariki about our local environment and cultural significance of it,'' Mrs Honeywill said.
''I think our children need to have a real understanding of the area that they live in, the cultural significance of that area and the history that goes with it.''
The schools would continue to visit the sites and help with the project.
''We will continue to support them throughout their planting and restoration journey.''
Whiria Te Waitaki Project will be funded by Linz until June 2024.