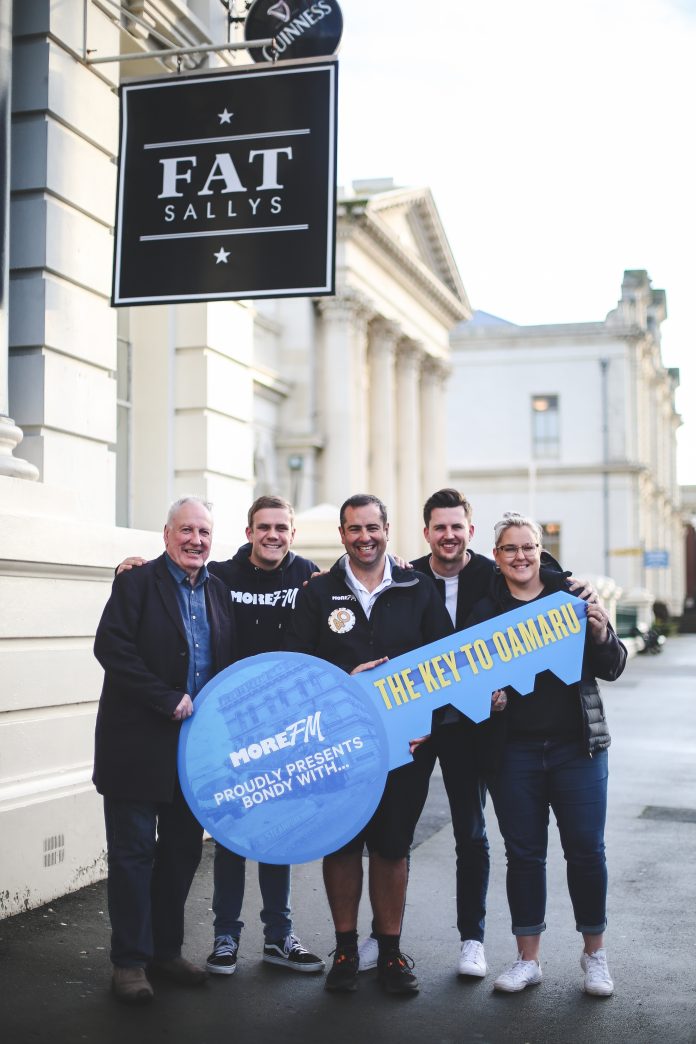 As a radio producer, most of Chris Bond's work is done behind the scenes.
But he was the star of last Friday's More FM Breakfast Club show which was broadcast live from Oamaru to celebrate the former Waitaki Boys' High School pupil's 40th birthday.
Lana Searle, Gary McCormick and Adam Percival hosted the show from Fat Sally's Pub and Restaurant.
It featured an interview with Mr Bond's parents, Peter and Lyn, and a message from Waitaki Mayor Gary Kircher, who bestowed the honorary title of ''Waitaki ambassador to the world'' upon Mr Bond and presented him with a key to Oamaru.
Mr Bond's wife, Erin, and sons, Liam (12) and Ryan (9), sang him happy birthday, and he also received a special birthday call from Suzanne Paul.
Mr Bond said broadcasting the show live from his hometown was an ''awesome surprise''. It was kept a secret until about a week out from his birthday.
''This is really special,'' he said.
He was humbled by all the messages he received on his birthday from the More FM team, guests and listeners. Having worked at More FM for 19 years, he had formed a special bond with so many people.
''I just love my job so much and love working with you guys and spending time with our family of listeners,'' he said on the show.
Mr Bond grew up in Oamaru and attended Awamoa Primary School and Waitaki Boys' High School. As a teenager, he did an Oamaru Mail paper run , before working for Jim and Cheryl Hopley at the Oamaru Pharmacy, where he had ''lots of amazing memories''.
Mr Bond left Waitaki Boys' in 2000, and started working at More FM in Christchurch shortly after. In 2006, he got the job producing the More FM breakfast show — and he has learned and developed his craft from there.
He had a great relationship with the Breakfast Club team and genuinely loved his job.
''We all get along so well — and it makes life so much easier when you're getting paid to have fun.''
While the Breakfast Club team was in Oamaru, they went for dinner at Scotts Brewing Co, visited Oamaru's Victorian precinct and the Oamaru Blue Penguin Colony — where they saw 168 little penguins arrive — and stayed at The Brydone Hotel.