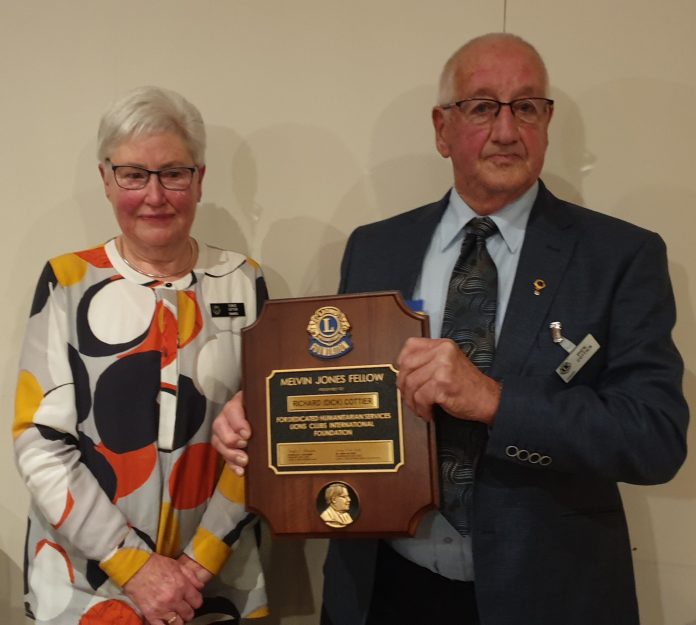 Dick Cottier has received the Lions Clubs International Foundation's highest honour.
At a recent Oamaru Lions Club meeting, Mr Cottier was awarded the Melvin Jones Fellow Award, the highest level of recognition from the Lions Clubs International Foundation for members who have given outstanding community service.
Mr Cottier had no idea he was receiving the award, but said he was grateful to get it.
''It's an honour to get,'' Mr Cottier said.
Mr Cottier has a long-standing association with Lions clubs throughout New Zealand.
In 1974, when he was living in Wairoa, he joined the Wairoa Lions Club.
He was working in the banking industry and knew most of the members in the club through his work.
''They invited me to join.''
From there he moved to Whanganui, and joined the Whanganui Lions Club, and then moved to Auckland, where he was part of the Pakuranga Lions for seven years.
In 1984, he moved to Oamaru and joined the Oamaru Lions Club.
Through the years, he has served as president twice, as well as secretary, treasurer, and been on all the club's committees.
''I think I've covered them all.''
He has also been involved in several projects, including working on Moana, a boat owned by the late Paul Tangney, which was turned into a centrepiece of the sandpit at the Oamaru Harbour playground.
Since moving to Oamaru, Mr Cottier left the banking industry and started with motels before setting up Paper Plus Oamaru in 1987.
Being part of the Oamaru Lions Club gave him great satisfaction, he said.
''It's the fellowship of Lions.
''You're serving the public and you get enjoyment out of it.''