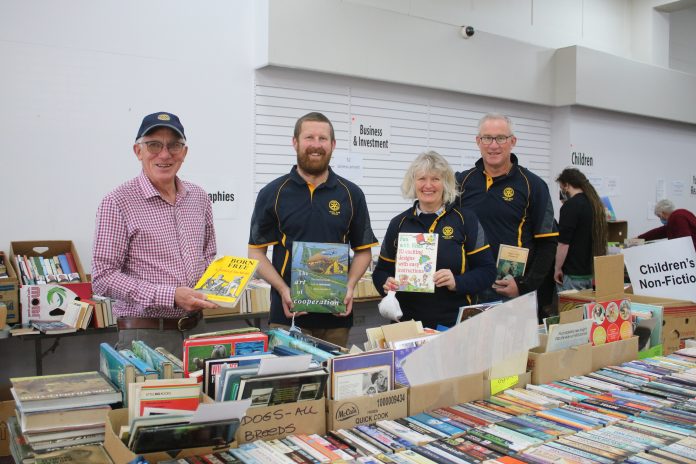 This year's Bookarama exceeded all expectations.
The official total from The Rotary Club of Oamaru's annual book sale was a record-breaking $56,790, surpassing last year's record of $42,000.
Convener Ele Ludemann said the group was ''absolutely thrilled'' with the success of the event, held in May.
''It's been our best yet,'' Mrs Ludemann said.
She put this year's success down to the high quality of books, the support from the community and the central location of the old Noel Leeming building in Thames St.
''It's kind of become an event. People look forward to it [and] lots of people come back more than once,'' she said.
''While we prefer to have everything before we start because then we can get it all sorted easily, we do take books while we're selling, so that means there's always some new books coming on, so people keep coming back.''
Bookarama was extended for an extra week this year, due to popular demand, she said.
''We had so many good books still left we carried on.''
The money raised this year will be split between different community projects. Rotary has already given $10,000 to Cure Our Ovarian Cancer research, and other money will go towards the Waitaki Event Centre project and the Oamaru Public Library, for a 3D printer.
Because the money raised this year was more than expected, other community projects, which were yet to be finalised, would also benefit, Mrs Ludemann said.
''That's why we do it — it's a community project.''
There had been some requests from the community this year for Bookarama to start on a Friday, rather than a Monday, so the ''bulk of the books'' were still there at the weekend. This would be taken into consideration for next year's event, she said.
''There's a challenge to make sure next year's even better still.''
Rotary members had started preparing for next year's event now, and would be collecting books throughout the year — ''we never say no'' — and storing and sorting them at the old BNZ building.
Mrs Ludemann asked people to make sure books were stored somewhere clean and dry.
''Because we do get books that have been in outdoor sheds or garages that have been damp or dirty, and sadly we just can't sell them.''
She was ''incredibly grateful'' to the community for its ongoing support of the annual book sale.