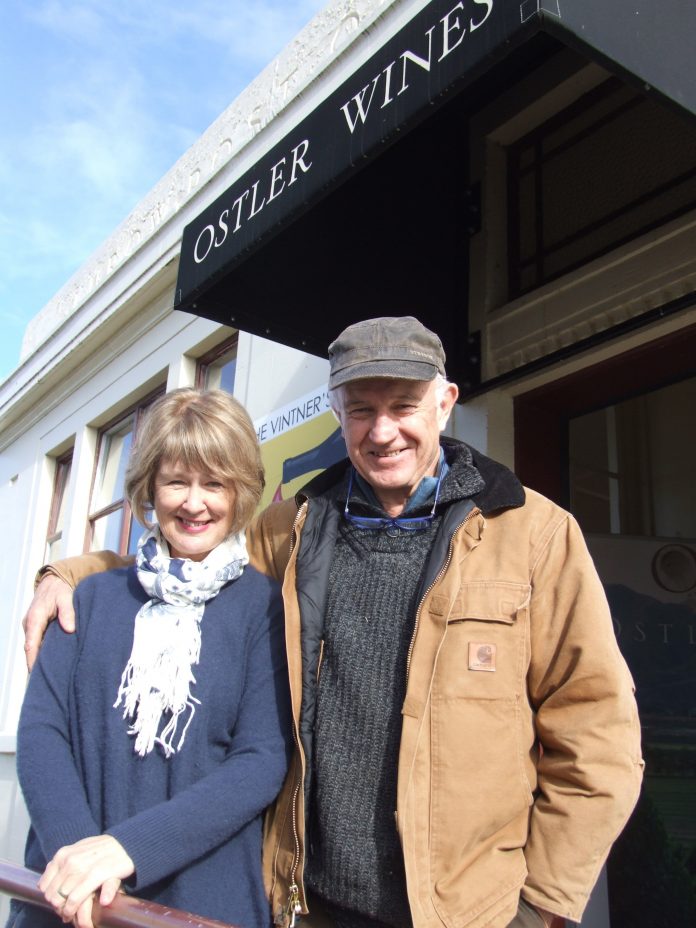 The ''final throes'' of handing his beloved Ostler Wines to its new owners this week is a ''bittersweet'' time for Jim Jerram.
It is almost exactly 22 years since Dr Jerram hung up his stethoscope and planted the grapes which brought winemaking to the Waitaki Valley.
It had been ''a great journey'', which was all about the people, he said.
''The wonderful people who are involved with wine in the industry, and consumers, and we've met a lot of new friends.''
Dr Jerram said the achievement of which he was ''most proud'' was to have put Waitaki Valley on the world map as a premium wine-producing area.
''Even though it's very small, we've shown that we can produce some outstanding wines, and there are others now doing the same thing.
''So it's tiny, but it's pretty special.''
He was ''delighted'' new owners ACG Wines Ltd had taken over the Ostler brand, and would continue with the premium, award-winning Caroline's Pinot Noir, but was sorry to close the doors on The Vintner's Drop — Ostler's Kurow-based retail and tasting venue — last week.
''We're a bit sorry. . . that local destination as a wine tourism destination is not continuing at the moment. We're very hopeful that we'll be picked up by another producer, and we're watching this space there.''
ACG Wines was using Central Otago-based viticultural consultants to run the vineyard here, with some ''very good'' local staff, Dr Jerram said.
Tim Heyes, who had been running the Ostler vineyards, was being retained by them.
''The wines are now being made by Maude Wines in Wanaka, who did make ours at one stage — one of New Zealand's very top winemakers — so it's appropriate.''
While the weather in the Waitaki Valley made it an ''edgy'' place toproduce wine, climate change seemed to be working in the region's favour, he thought.
''Over the last decade, the seasons have got earlier and earlier — apart from this year, it was a wee bit of an aberration — but definitely having a slightly earlier season has made it easier, and it also does appear the lower yields we sometimes get is also associated with higher quality.
''There's been a big learning curve, and we think the potential is for the area to go ahead in the future.''
The competition for land, due to dairy prices driving up values, was an issue affecting significant expansion in the area of viticulture at the moment, he said.
Dr Jerram would remain interested in the industry, and would keep in touch with the contacts he had made through the years, but his involvement would be ''more academic than active'' from now on.
''I shall remain a serious sampler.''
His wife, Anne, who had a PhD in medicine, continued to work in a research capacity for the University of Sydney, from home.
Dr Jerram said he planned to spend his spare time working on their own property, ongoing community projects, as well as visiting friends and family around the South Island.
''And there are plenty of fish in the river.''
It was a ''great privilege'' to be part of Waitaki Valley wine history, he said.
It had been wonderful ''getting your hands in the dirt one day, and being in front of sommeliers in Melbourne the next day''.
The feedback from the wines had always been good, in a very tough, competitive industry.
Dr Jerram said Ostler would not have happened without the support of his wife, and his winemaker brother-in-law, Jeff Sinnott, overseeing the project. He also acknowledged the people who had helped out at different points, by volunteering their labour, helping financially, buying the wine, and backing them.
''It's been a very special journey, and treasured.
''I believe in the Waitaki as being a serious contender for producing fine wine. It'll never be large, it will always be on the edge, but sometimes that's where the best wines are produced.''