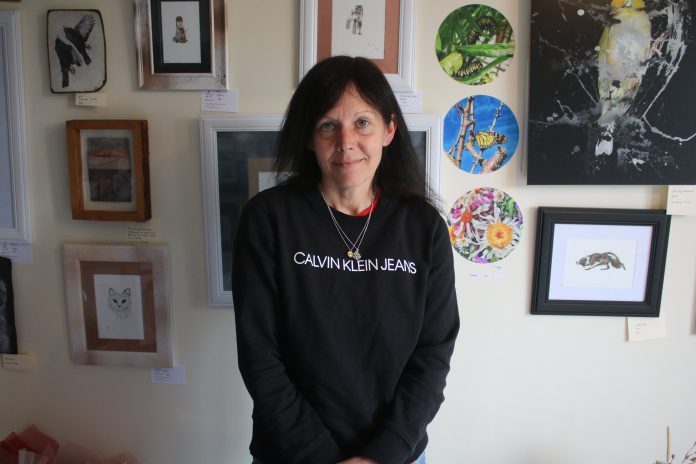 Bethan Moore is moving away from dairying to further explore her creative side.
Cherry Leaf Farm Gifts and Coffee Shop opened at Alma last weekend, and Mrs Moore started the venture as an outlet for artists and makers to sell their work and people to buy quality presents.
The coffee shop would be serving baking from Weston› based food trailer the Yellow Pickle, alongside coffee and milkshakes made with milk from The Natural Dairy — the business Mrs Moore and her husband, Bryan, began themselves, then on-sold almost two years ago.
''And we're going to do Cornish cream teas. I'm just trying to keep it really simple.''
The venue was somewhere ''people can relax with a bit of an arty vibe'', she said.
''It's a gallery, gift and coffee shop''.
Originally from Wales, Mrs Moore came from an artistic background. Her father had just had an exhibition in Wales, and her grandfather had been a painter and potter as well.
She rediscovered her passion on the West Coast, where the couple had been sharemilking since selling The Natural Dairy.
''So yeah, I've always painted, but just started selling it this year.''
Her mediums were watercolour and ink.
''Mostly things like abstracty landscapes and animals,'' she said.
The gallery stocked a range of arts, craft and jewellery, from local artists and some further away.
''I just wanted to give other people an opportunity to sell their things through me because I know how hard it is to get into the scene, if you're a potter or you're a maker or an artist.
''And I have some people here who are professional, and some people who have never sold their work before. So, a mixture.''
A children's playground on site meant parents could take their time having a coffee and a look around.
Initially the business would be open Thursday to Sunday from 10am to 4pm, with the possibility of longer hours if there was demand.
During the school holidays, which begin next week, children could meet the farm animals and enter a colouring competition, both on Thursdays at 11am, Mrs Moore said.