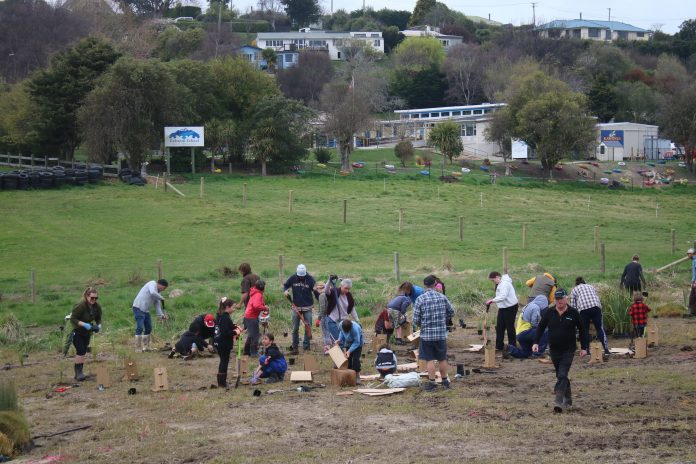 Nearly 100 people turned up to plant more than 1000 plants at Kakanui School last weekend.
The project was a collaboration between the school and the North Otago Sustainable Land Management group (Noslam).
Noslam approached the school, wanting to help protect the biodiversity and the creek that runs through the paddock, which had previously only been used for grazing.
Kakanui School board of trustees member James White said the school had been wondering what to do with the paddock for a while, and once Noslam reached out it was ''a no-brainer''.
''[We used to] graze it, but get very little from it in terms of money and, environmentally, we've got the creek going through it.
''That's kind of got us thinking about what to do with the paddock, so we've teamed up with Noslam,'' Mr White said.
''Noslam have put some money into the fencing as well, which is awesome.''
They also plan to create a walkway through the paddock so pupils can avoid walking on the road to get to school.
''[Harbour Tce] has always been really dangerous for school kids. There's nowhere to get off the road and cars come whipping through here, so that's part of the plan to have a nice walking link through this area.''
Fencing around the paddock was also replaced.
Kakanui School principal Ann Roughan said she was really proud of the pupils for giving up their time at the weekend to help out, and it was great to see so many members of the community show their support.
''They love it, they really do.
''We're not forcing them to do it, it's their choice.
''They've got their families out and it's a whole big family day.''
Noslam co›ordinator Rob McTague echoed her sentiment.
''It's a big urban-rural community get together. [The planting is] bringing them together and working side by side.''
The group spent more than $20,000 on the project, with funding coming from the Ministry for Primary Industries as part of the Jobs for Nature programme.
Mr White said the school couldn't thank Noslam enough for its support with the planting project.