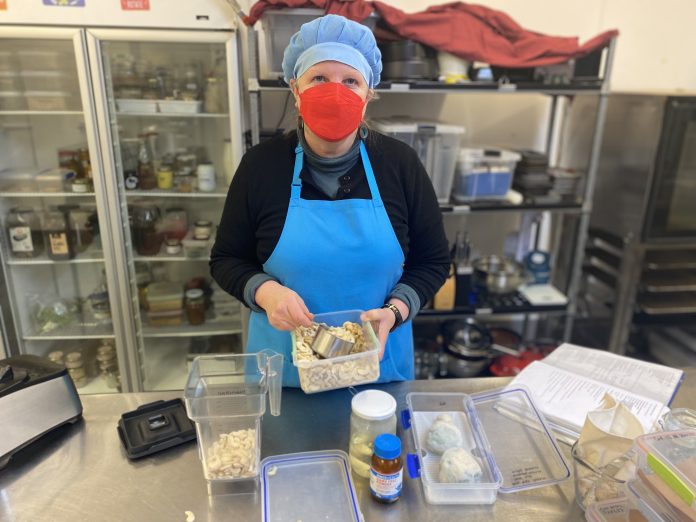 Moa Bakery, Cakery's blue cheese keeps bringing home the gold.
The results of the national 2022 Vegan Cheese Awards were released last Friday, and Oamaru's Moa Bakery, Cakery won the Surface Ripened and Blue category for its blue cashew cheese.
The cheese won the same category at the awards last year, and creator Jane Thompson said to win again was ''very exciting''.
''It's quite validating, as well. I'm on the right track . .. no-one else has done anything, sort of, similar in the meantime.''
Ms Thompson said the cheese was one of the favourites she made, and she sold a lot of it.
It was one of more than 30 cheeses judged in seven categories, and the judges said it had a beautiful strong flavour, creamy and firm mould, and a nice appearance.
''A 'real' blue in the vegan world.''
The overall supreme winner was a cashew feta — Casheta — made by Auckland-based company Savour, which also won the soft cheese and feta categories.
Moa's blue cheese was last year selected for the farewell dinner of Governor-General Dame Patsy Reddy, a plant-based vegan, at Government House, along with its fenugreek umami, and sharp miso cheddar.
Ms Thompson said she would increase production following the award, as there had been an increase in demand following last year's win.
The blue was stocked in a Christchurch vegan deli-cafe and available in her Arun St store or through the website.
Moa Bakery, Cakery began with a regular presence at the Oamaru Farmers' Market seven years ago, but due to the current situation with Covid-19, Ms Thompson had chosen to stay away from the market for now.
She had ongoing health issues with chronic fatigue, and had also chosen to reduce her shop hours, to protect her health and business, she said.