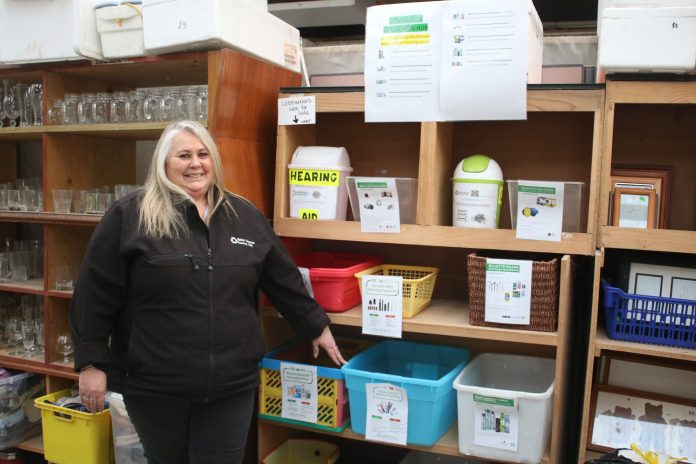 The Waitaki Resource Recovery Park is adding more recycling strings to its bow.
The Chelmer St park has partnered with TerraCycle, a company developing recycling solutions for items that are not usually recyclable locally, to launch a new recycling station for smaller items on Monday. The new station, based in the park's Get Sorted Shop, has different buckets for the products to be dispensed in.
Among the new products being accepted are Colgate toothbrushes and toothpaste tubes, Gillette razors, Schwarzkopf aerosol cans, hair products and hair colour treatments, dish and air care products, alt. and VAPO pods and juice bottles, and batteries. Coffee capsules, from selected brands, can also now be recycled.
Waitaki Resource Recovery Park operations manager Trish Hurley said she was thrilled to be able to offer a new free service for the community.
''We don't get any money for doing this. It's solely trying to find alternative solutions for things going to landfill and to try and get as much recycled in our community as we possibly can,'' Mrs Hurley said.
The service was going to be ''customer driven'' and the shop was the perfect spot for the new station, because it could not be run through the park's commercial or domestic areas.
''It also gives people a chance to see more of what we actually do here because some people don't realise that we do have the shop and so it's a good way to get people in to see 'Oh we don't actually have to go out and buy brand new, we can find a use for other items that people have finished using'.''
Mrs Hurley spent a lot of time networking and researching recycling options throughout New Zealand.
There had been a demand in the community to recycle the new items, especially Colgate products as a TV advertisement said the tubes were recyclable.
''It was causing confusion for people because there's no actual open market for being able to recycle the toothpaste tubes, but you can through this programme.''
TerraCycle separates the material types and creates new products from the items. Metal from the razors is used for conversion to new alloys.
The new station adds to the growing options at the park, including the soft plastic and tetrapak recycling introduced last year.
The park had recycled eight tonnes of soft plastics, polystyrene and tetrapaks.
''I would say based on what we have been doing over the last three years, with adding new markets, that we would be close to being one of the top community›based recycling centres that can actually provide the most recycling services available for people,'' Mrs Hurley said.
She expected more products to be added to the TerraCycle recycling in the future.