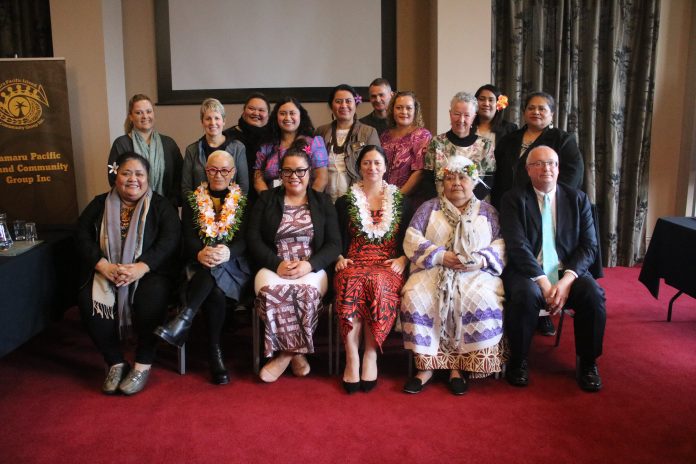 The Ministry of Health Pacific leaders have praised Oamaru for its response protecting the community against Covid-19.
Former Ministry of Health Pacific health director Gerardine Clifford-Lidstone and new director Markerita Poutasi were in Oamaru on Wednesday to meet representatives from the Oamaru Pacific Island Community Group [OPICG], WellSouth, Waitaki District Health Services, Waitaki District Council and other health organisations.
In the past 18-months, OPICG members have held several Covid-19 vaccination clinics and administered its Waitaki Covid-19 welfare care network service, supporting people who tested positive or self-isolating.
Ms Poutasi, in her first visit to Oamaru in her new role, praised the Oamaru, and national Pasifika community, for its response. Pasifika were one of the hardest hit, with high death and hospitalisation rates, but the ''community element'' was incredible, she said.
''I've never seen anything like it. I really acknowledge the service because it was so huge,'' Ms Poutasi said.
She was thrilled to connect with OPICG vaccinators, felt Oamaru was ''well positioned'' moving forward for health reforms, and heard health concerns from representatives.
Main issues included long term funding, resources, work opportunities, access to education, and housing.
OPICG general manager Hana Halalele said they wanted to make sustainable change, but it was difficult with short›term funding bouts.
Oamaru had complex needs, with a diverse migrant community and both rural and urban sectors.
Ms Clifford-Lidstone, who is now working for the Ministry of Health to create the Pacific strategy, said Oamaru's perspective when developing the Pacific and rural strategies would be invaluable. She hoped to include two people from the community on both strategies advisory boards.
Oamaru was her ''favourite place'' due to the dynamic between OPICG and mainstream infrastructure, Ms Clifford›Lidstone said.
''It's just something that is really, really unusual,'' she said.
''I want to maintain connections within this community.''
Mrs Halalele praised Ms Clifford-Lidstone for her support during her tenure as director, giving OPICG hope to continue its work.
During the August lockdown, OPICG had community members wanting vaccinations. Te Kaika was unable to assist from Dunedin, and OPICG was unable to pull together anything quickly.
''We promised ourselves we'd never be in that situation again,'' Mrs Halalele said.
Two days later, Ms Clifford-Lidstone contacted Mrs Halalele saying funding was available to them to put together a proposal and start their clinics.
''Thank you to Gerardine for the support you have given us at a national level because it makes us feel part of something,'' Mrs Halalele said.