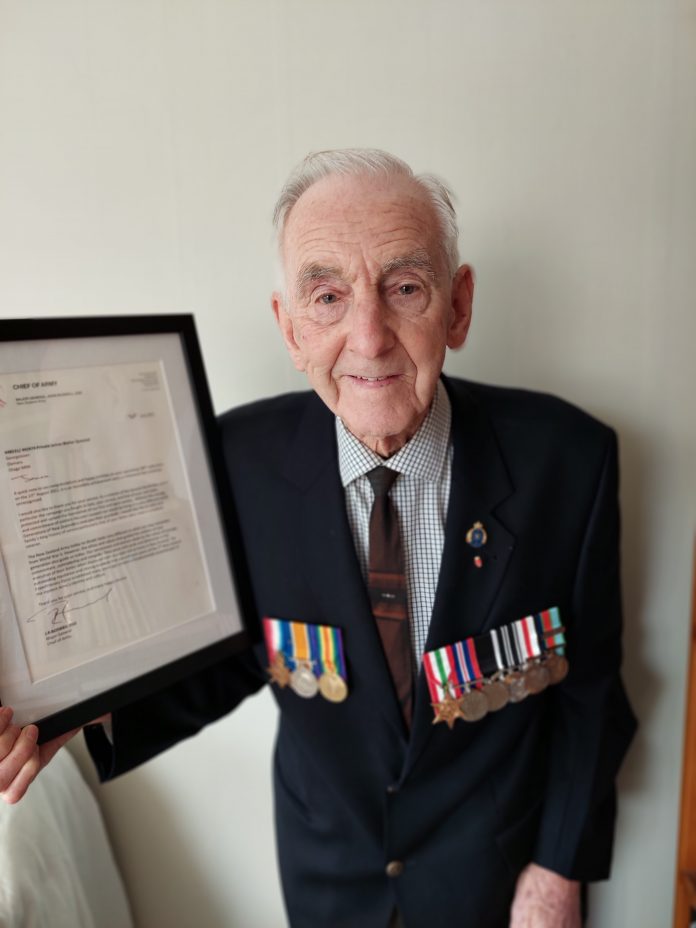 Georgetown identity Jim Quested has turned 100.
He reached the milestone on August 13, celebrating with a party at the egg farm where he grew up and a family gathering that included his five great-grandchildren.
Last Sunday there was another event to mark his achievement — a presentation at the Oamaru Club of a framed letter from the Chief of Army recognising his service in World War 2. RSM Craig Winter, 2/4 RNZIR, travelled from Christchurch to give him the award on behalf of the Chief of Army.
Mr Quested was accompanied by family members and fellow veteran Selwyn Stanger, who is now 101 and received the same honour last year.
New Zealand Remembrance Army Waitaki co-ordinator Barry Gamble said the 20th Armoured Regiment association also passed on its good wishes to Mr Quested, its last surviving member.
''James Walter Quested had an unusual military service,'' Mr Gamble said.
''He enlisted as a private in the infantry but transferred to the air force and navy before returning to the army.
''After basic training with the army and air force, he was one of 600 offloaded from his transport ship departing for Egypt due to overloading.
''Finally making it to Maadi, Egypt, his infantry battalion converted to Armour, so Private Quested became Trooper Quested.''
He was an air crew trainer while with the air force.
Both Mr Quested and Mr Stanger served in Italy and would have been in Trieste at the same time, Mr Gamble said.
''Jim was a Sherman tank driver with the 20th Armoured Regiment. At the end of the war he spent six months with 27th Battalion J Force.
In Japan he witnessed the destruction caused by the dropping of the Atomic bomb on Hiroshima.''
Mr Quested's life at Georgetown was shaped by the World War 1 experience of his father, Walter.
The first Questeds settled on the site in 1875, having immigrated from lowland Scotland. Walter worked on the railways before serving in Gallipoli.
Returning blind in one eye, he could not get his old railways job back. So he started keeping hens on his 4ha plot, along with a horse and cows.
Mr Quested had a younger brother and sister, but said he was the only one ''stupid enough'' to take over the egg operation from their father.
As a single man, Mr Quested played rugby and cricket for Georgetown teams and went to many Saturday night dances at local halls.
He and his late wife Mary raised their three children, Christine, Stephen and Peter, at the Georgetown farm. All three have university degrees.
''It didn't worry me if the children took over the farm,'' Mr Quested said.
Eventually, economic conditions created such anxiety that he developed a stomach ulcer. He shut down the egg operation and did 11 seasons at the Pukeuri meat works.
''Stephen took it on about three years after I started at the works.''
Mr Quested retained ownership of the land and chattels, and Stephen rents the business from him.
In 2014, Mr Quested was one of 40 men in a New Zealand party that went to Italy to commemorate the Battle of Cassino. He placed a poppy on the grave of Georgetown man Tommy McPhee, who was a signalman in the 26th Battalion. Mr Quested had attended Mr McPhee's 1942 send-off in the Awamoko Hall at Georgetown.
Now living with Christine, Mr Quested still rides the e-bike he bought online in his mid›90s. Having cycled to and from the hens all his life, it allowed him to remain mobile after health problems with his legs.
''It's my main transport.''
Mr Quested believes his longevity is probably genetic. Although his mother died of meningitis at the age of about 50, his grandparents lived into their 90s.
''I don't know how I got there,'' he said of turning 100.
''It just happens.''