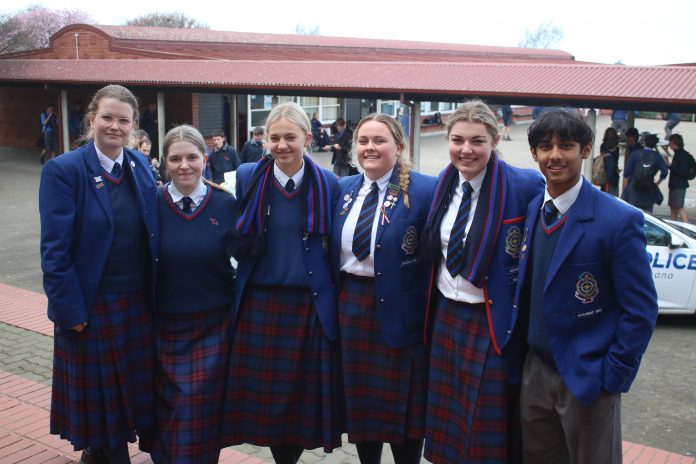 Secondary school leaders have taken it upon themselves to teach their peers about road safety.
Students Against Dangerous Driving (Sadd) groups at St Kevin's College, Waitaki Boys' and Waitaki Girls' High Schools have all hosted events to recognise Safer September in the past month.
Safer September is a national Sadd initiative to raise awareness around road safety and making good decisions.
The schools hosted various events, including barbecues with police, obstacle courses using impairment goggles and ''what would you miss'' activities, with people identifying what they would miss if they died in a road accident.
St Kevin's Sadd leader Rhiannon Wellings (16) said Safer September was an important way to get the message across to Waitaki's youth.
''This year's been quite busy with Covid and lots of things not even happening, so to have a month dedicated to road safety and to keeping everybody safe is really, really important,'' Rhiannon said.
''It's just a month where we can focus as a school on what's going on.
''It's knowing that teenagers aren't going to do what all the adults say and that's why Sadd's here. It's students that are in the same situation that they're in and we want to help them break the stigmas.''
Not wearing seatbelts was a ''massive issue'' youth faced, especially in Oamaru, as was breaching their driver's licence restrictions.
Last year, St Kevin's hosted a successful ''What would you miss event'', where pupils placed sticky notes on a car with their messages. Rhiannon said the group hoped to host the event again to ''hit home'' for the end of the month.
Waitaki Girls' Sadd member Casey Kinns said the obstacle course was ''amazing'', with lots of pupils taking part.
Waitaki road safety coordinator Jason Evered said he was proud of the school's Sadd groups for taking the initiative to spread the message.
''I think it's just great they are taking responsibility for themselves and their peers to get the information — in whichever way it might be, through the [statistics] and figures that were given to them.
''[A] little get-together with a sausage and a piece of bread just raises the profile of Sadd and the work they do,'' Mr Evered said.