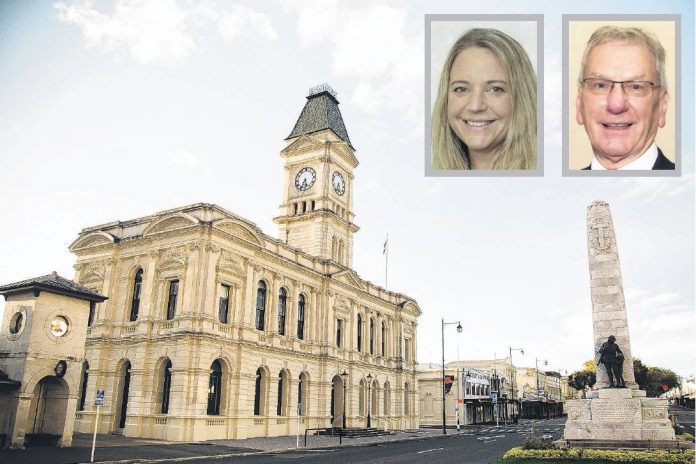 They entered politics together, and now they are leaving together.
After deputy mayor Melanie Tavendale announced in January she would not be seeking re-election this year, Colin Wollstein has confirmed he has decided to stand down after serving three terms as an Oamaru ward councillor. Crs Tavendale and Wollstein, the two highest-polling Oamaru ward councillors at the last local body election, were both first elected in 2013.
Corriedale ward councillor Bill Kingan is also not seeking re-election, and the Ahuriri ward seat is vacant, after the death of councillor Ross McRobie in November last year.
All other current councillors — Hana Halalele, Kelli Williams, Jim Hopkins, Jeremy Holding, Guy Percival and Jim Thomson — confirmed to the
Oamaru Mail they will be seeking re-election in their respective wards.
Nominations for this year's local body elections opened last Friday, and close at noon on August 12. As of Monday, the only nomination that had been received was that of incumbent Waitaki Mayor Gary Kircher, who is seeking a fourth term as mayor. Paul Mutch, who challenged Mr Kircher for the mayoralty in 2019, announced earlier this year he plans to throw his hat in ring again.
Cr Wollstein said he would miss the role, and standing down had not been an easy decision.
''I feel that it is time to allow someone else to have a turn, and to free myself to spend more time with family, tramping, skiing, cycling, travelling, etcetera,'' he said.
''I have both enjoyed and am proud of my nine years on council, but feel this is the time to move on.''
He was proud of what he had been able to achieve and of being part of a team that had always tried to achieve the best results for the Waitaki community, with the resources available.
He had enjoyed the ''great'' relationship between the Mayor, councillors and staff, and believed new chief executive Alex Parmley had made a positive difference for the council.
The increased pressure placed on local government by central government, with little or no funding to meet the demands, had been a challenge, he said.
''Also, what I have viewed as less than honest communications from central government to the public, with the Three Waters debacle a prime example of Government placing councils in a less than favourable public position to achieve their political objectives.''
Cr Wollstein called out members of the public who often accused councillors of having pre›determined opinions on some matters, such as Forrester Heights.
''Some of these people are guilty of exactly what they accuse councillors of.''
He encouraged anyone with a desire ''to achieve the best results possible for the community'', and who had the skills and knowledge to do so, to stand in this year's local body elections.
''Being an elected member requires a large commitment to the role, both in time and mental effort, and those considering standing should consider whether they have the skills, knowledge and time to become an effective councillor,'' he said.
''I strongly advise anyone considering standing for election to ensure that they have a good understanding as to what the elected member role requires.''
In Waitaki, elections are held for Mayor, the Waitaki District Council's Ahuriri ward (one seat), Corriedale ward (two seats), Oamaru ward (six seats), Waihemo ward (one seat), Ahuriri Community Board (five seats), and Waihemo Community Board (five seats), the Oamaru Licensing Trust (five seats), the Otago Regional Council's Moeraki constituency (one seat) and Environment Canterbury's South Canterbury constituency (two seats). About 25 people, including about 10 Waitaki District and Otago Regional Council staff members, current councillors and other election officials, attended a candidate information evening at the Oamaru Opera House on Monday night.
Mr Parmley told prospective candidates that being an elected member was ''a big job — and it's a big deal'', but it could also be very rewarding.
It needed a good investment of time, and the responsibility that came with the roles should not be taken lightly, he said.
It was important there were a ''wide range of skills'' around the council table, so different views were brought to the debate, analysis and direction of the district — and every candidate's motivation should be to do their best by the community, Mr Parmley said.
Mr Parmley has prepared the 44›page pre› election report to inform voters and candidates what is planned for Waitaki, and some of the key issues, challenges and opportunities in the district.
The seven issues included in the report are: Waitaki's ageing population, housing, securing the people and skills the district needs, rising costs and affordability, Covid›19, the environment and climate change and Government reforms.
''It will be a challenging term ahead for every one of our elected members. There will be decisions to be made by council that will have major impacts across our community.''
For more details on the 2022 local body elections, visit: waitaki.govt.nz/council/elections.