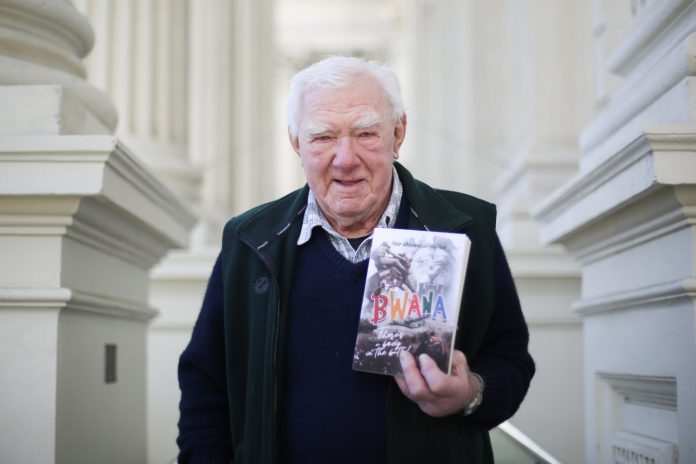 The ''pride of Hampden'' has shared his labour of love with his community.
Peter Whitehead, who released his autobiography, Bwana, There's a Body in the Bath!, in May, held his book launch last Wednesday, with the Hampden community coming out in droves to support the local author.
The 98-year-old was rushed off his feet signing books and speaking to the audience about his book at the Hampden Hall.
Hampden School pupils performed songs from the 1966 film Born Free — which Mr Whitehead worked on, handling lions — and The Lion King.
During the question and answer segment, one child asked Mr Whitehead how long it took to write the book, and Mr Whitehead, with his quick wit, replied ''about 90 years''.
There was also a special Zoom segment with Australian author Tony Park, who helped write Bwana, There's a Body in the Bath!, and Mr Park recalled the ''shiver up my spine'' when reading the initial email from Mr Whitehead about his life.
Their connection began when Mr Whitehead read one of Mr Park's books, and wrote to him to tell him how much he enjoyed it and gave a synopsis of his own life.
It piqued the interest of Mr Park, who encouraged Mr Whitehead to share his story. Mr Park flew to New Zealand and spent five days with Mr Whitehead in Hampden, interviewing him about his life and going over what he had already written down himself.
Book launch organiser Henrietta Purvis said the event was a roaring success — and there was even a body in the bath outside the hall.
''Peter wrote the book as a result of family urging him to put his very full life down on paper,'' Mrs Purvis said.
''Once his friends in the community read it, we realised it really was a story that needed to be shared to a much wider audience.''
Mr Whitehead's fascinating life, from serving in the Australian army and air force in World War 2, to working in Africa as a colonial officer, parks ranger, big game hunter and rancher — as well as working on the sets of several big› name movies, is detailed in the book.
He moved to Hampden about six years ago to be closer to his daughter, Anne Harrison, who lives in Moeraki.