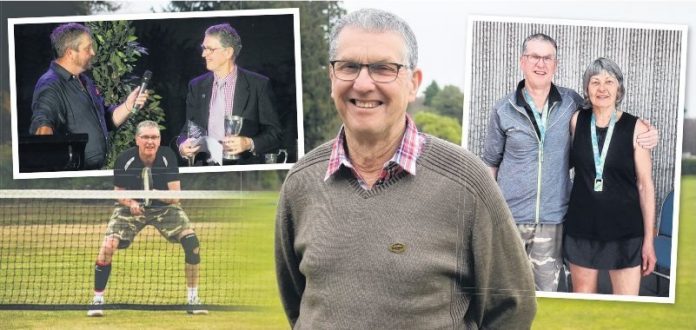 A wry smile graces Peter Simpson's face when he talks about tennis.
''I've just loved the game all the way through.''
It is that love that has carried him through the game for more than 30 years, giving back to North Otago Tennis, and keeping him playing.
However, while he has helped with numerous events and held nearly every role on the committee, Simpson was shocked at being made a life member of North Otago Tennis recently.
''I'm pretty honoured — absolutely,'' he said.
The 71-year-old becomes the club's fourth life member, joining Des McMaster (1999), John MacDonald (2009) and Marty McCone (2014).
Growing up in Tokarahi, Simpson started playing tennis like every other child at Duntroon School. Tennis was massive, and very competitive, in those days, he said.
''It was a real challenge to get on the tennis court. I felt very lucky that way.''
He continued at Waitaki Boys' High School, and after school, he joined the Upper Waitaki sub association, and became president, aged 22.
It was there he became involved in North Otago Tennis as the Upper Waitaki delegate, but once he moved to Oamaru in 1989, his involvement grew.
Through the years he has been secretary, line›marker, tournament controller, painter — ''I've just about done everything'' — and was president when North Otago first held the South Island doubles tournament in 1999.
It was then, through sleet and rain, the committee knew its Chelmer St grass courts — one of only three left in the South Island — were not up to standard. The following year the top 5cm was removed, levelled, and re-sowed for $10,000.
''We've got a magic venue here and people love coming to it.''
Simpson, who is also a handy table tennis player, had been heavily involved in running the South Island Veterans Tennis Festival in Oamaru since 2000.
It was in the masters arena Simpson found success on the court.
In the early 2000s, Simpson partnered with Peter Ross to win bronze in the 40-45 age group at the New Zealand Masters Games. Two years later, he won gold with Des McMaster in the 45-50 age group, and gold again with Doug Hurst in the under-55 age group, years later.
In 2005, Simpson's hips ''packed up'', forcing him to have a double hip replacement.
''When I had two hips replaced, I thought my tennis days were over.
''But I've played more years since having my hips replaced, than before. To still be involved, and still be playing tennis, I feel very fortunate.''
In recent years, he has won South Island masters titles with Barbara Proven of Wanaka, and was named masters sportsperson of the year at the 2020 Waitaki Sports Awards.
Simpson had watched the game change through the years — North Otago's numbers had dropped ''dramatically'', but there were still keen tennis players involved, week-in and week-out.
It was the tournaments and the connections tennis gave him that he loved the most.
''The people have been marvellous. I've made some wonderful friendships over the years.''