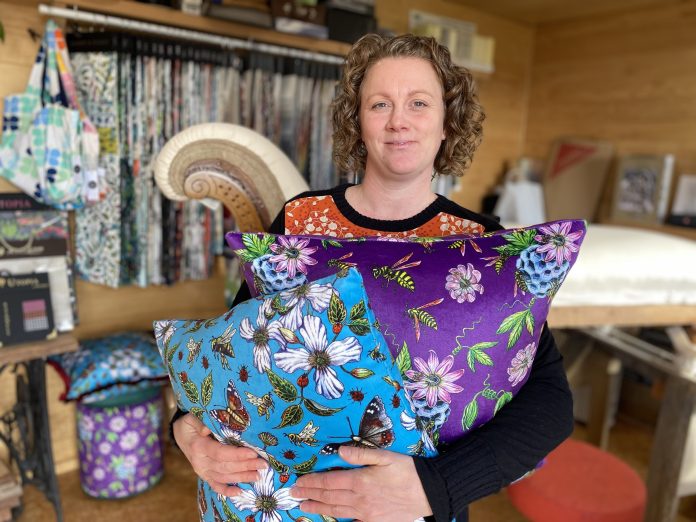 Tracey Vickers has crafted a way of bundling all her creativity into one dream job.
The artist, furniture restorer and mother of two has recently branched out into a ''side hustle'' of designing her own fabrics, and is now looking at starting a furniture range.
With the help of her builder husband, an old worker's cottage on their Herbert property has been restored, and this is where Vickers spends the majority of her days working on her business, Tracey Vickers Design, while children Owen (9) and Olivia (6) are at school.
''It's in such a good spot, and is such a big space.''
She had been working in the building for more than a year now, and as finances allowed, was acquiring a range of necessary tools.
''It's (the business) just been growing. I've slowly added equipment . . .just slowly built it up.''
Although perhaps better known in Oamaru for her artwork, working with furniture was ''always in the pipeline'', since she was inspired by a teacher in her fifth form year (year 11) at Whangarei Girls' High School.
''We had a really cool design technology department.''
She completed a four-year degree at Auckland's University of Technology in object design in 2006.
''It covered sculpture, ceramics, furniture, lighting. I always enjoyed the furniture aspect of it, but it was a real hands-on degree.''
Computer technology was growing in the industry, but Vickers said her training was more ''craft-based''.
''That's actually what I prefer, and I always have. I used to do basket weaving, and all the traditional craft, and then I learnt a bit of upholstery, but it's definitely been something that I have learnt over time.''
From university, she worked in a retail design store, making furnishings, and then went on to work for shelving company Lundia Furniture, doing computer animation drawings.
However, having grown up on a dairy farm, Vickers soon tired of city life, and moved to Western Australia to drive trucks.
''Because of the climate over there, in my spare time I'd spend so much time inside. I'd always been an artist, but I kind of honed in on that.
''I used to do my drawing in my spare time, and I spent a lot of time at the library, and that's where Istarted experimenting with the water colours. I found this book called Vibrant Water Colours, and that's where my water colour journey, I suppose, started.''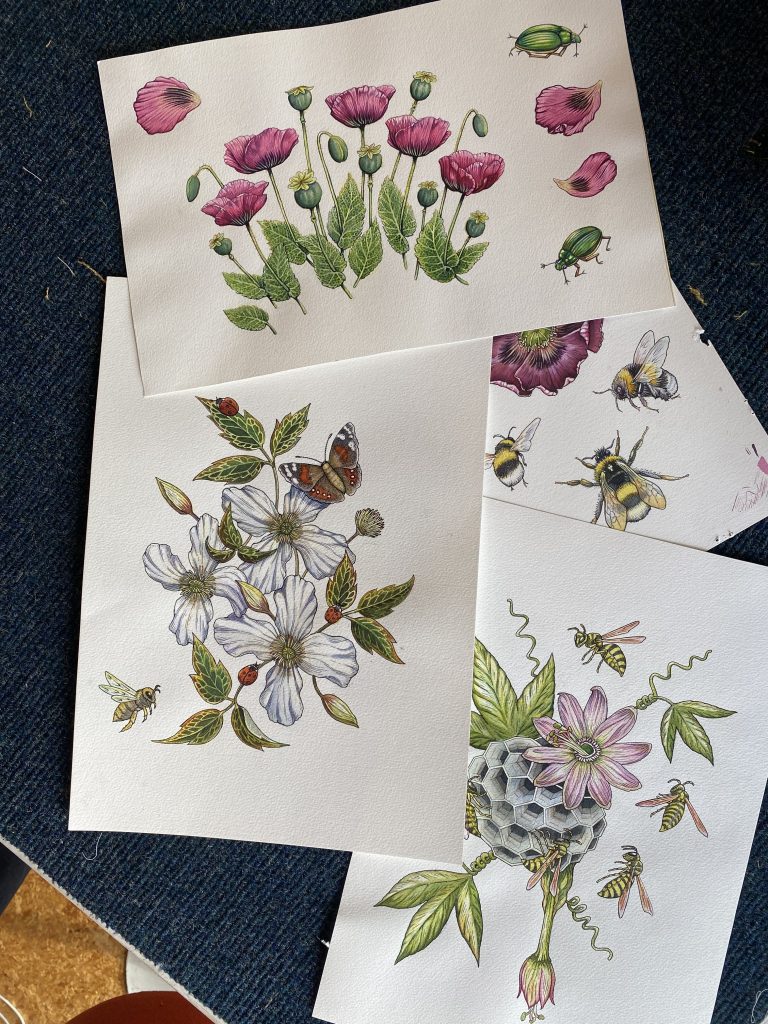 Vickers liked creating ''solid brightness'' with her water colours, as opposed to the normal ''wishy-washy'' look. Her work had also shifted from a realism style to more illustrative, she said.
''So that's where the fabric journey is all starting, and it's just about kind of merging all my skills together into one. Because what I was finding [was] my art was kind of getting left behind, unless I had an exhibition to work towards. This [furniture restoration] work was taking over things.
''So I was like, I want to do my own thing, as a point of difference too.''
The process began with Vickers' ''little water colours'' of New Zealand's flora and fauna.
''I love the New Zealand natives, but at the back there we've got all the banana passionfruit, and I'm like we've got all these pests around [and] I didn't want to limit myself, so I started including them as well.''
The artwork was then scanned into the computer, and hours were spent preparing the final image that was suitable to be made into fabric.
''There's quite a lot. You've got to clean up the images, but then . . . you've got to come up with a pattern, and so you don't want something looking too repetitive or symmetrical.''
She created a colour scheme, found a printer in Auckland, and has had her first two runs of fabric printed on to commercial grade polyester velvet.
''My colours are very vibrant —it's more a representation of my style and me. I've always loved colour. It's still really new, so I'm still getting around where it's going to take me.''
Vickers was starting small, as there was a big cost initially in getting the product produced, so she was getting short runs printed, and using it to create her own small furniture range, which included cushions and footstools.
''I've also got cards and stuff . .. there's a lot to go with it, in terms of homewares and stuff. It's actually becoming rather addictive. I've got another design coming.''
As well as the fabric design, and furniture restoration, Vickers was continuing with her squab-making for indoor and outdoor furniture. It was more straightforward, and she knew how much time to allow per job.
''Whereas my furniture restoration, a lot of my hours get sucked into it.''