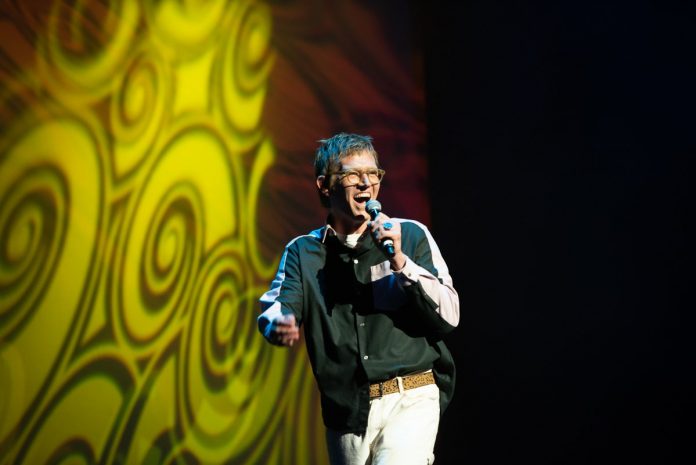 Oamaru has always been on Chris Parker's list of places to perform in.
The New Zealand comedian, who is bringing his Gentle Man tour to Oamaru next month , said he had a ''sort of like third sense'' that the Waitaki town was a lively place, with good people and a real cultural hub.
On August 14, Parker will perform two one-hour shows at Donna Demente's Grainstore Gallery.
Demente's gallery had piqued his interest after he saw some of his musician friends, such as Nadia Reid, had performed there — and the Oamaru artist had been a very supportive follower of his comedy.
He was looking forward to finally getting the opportunity to perform in Oamaru, after his February shows had been postponed due to the Omicron outbreak.
''While this isn't the summer tour I had imagined, I'm thrilled I was able to keep Oamaru on the schedule, and I grew up in the South, so am used to the cold,'' he said.
Parker grew up in Christchurch, and had always been ''a bit of a show off''. He loved drama classes and any opportunity to perform.
While he initially had ''lofty aspirations'' to become a serious actor, after graduating from Wellington drama school Toi Whakaari he started picking up some comedy gigs, and they opened up a ''whole new world'' of performance opportunities for him.
He started dipping his toes into TV work, regularly appearing on 7 Days and Have You Been Paying Attention?, and writing for and performing on Jono and Ben. He also won the New Zealand International Comedy Festival's top award, the Fred Award, in 2018.
''Comedy blew up for me in this way that I'm so grateful for.''
Then the Covid-19 pandemic hit.
When New Zealand went into Level 4 lockdown, Parker pivoted to making online content. As a self-confessed show-off, he needed some attention.
''There were no opportunities to be doing it in front of an audience,'' he said.
''So I found an online audience.''
Parker turned to needle felting on a whim when the lockdown began — and New Zealanders seemed to really find solace in his felting journey, which he recorded and shared on Instagram. He soon became a lockdown social media sensation, attracting thousands of new followers.
The Auckland War Memorial Museum and Te Papa then ''weirdly'' both got in touch wanting to buy a hat he had created, which featured felted versions of Prime Minister Jacinda Ardern and Director-General of Health Ashley Bloomfield, as well as other felted lockdown-themed creations.
After the lockdown restrictions were lifted, Parker toured New Zealand with a live comedy felting show, How I Felt. He then starred in, and won, Celebrity Treasure Island.
''My life has always had these sort of twists and turns of doing something I don't think I'm going to be very good at and surprising myself with that, and it exceeding my expectations and everyone else's expectations,'' he said.
''I'll do anything for the experience and I love that comedy can take you to all sorts of different places, be it the Grainstore Gallery in Oamaru or Celebrity Treasure Island.''
While he now had a large following online from his lockdown felting journey, and from Celebrity Treasure Island, a lot of New Zealanders had not met him as a stand-up comedian, he said.
That was why he decided to hit the road with his Gentle Man tour, which would be his ''best bits'' from the past 10 years.
''It's like 'Now That's What I Call Chris Parker Volume 1','' he said.
''It's a nice little insight into me beyond, say, Treasure Island or my felting. If you wanted to know more about me, then this is a great little window into my life, but it's also, I think, very funny.''
Tickets for Parker's Oamaru shows are available online at eventfinda.co.nz.