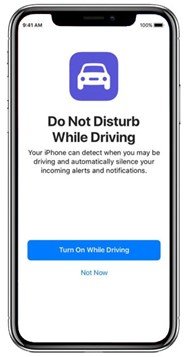 Put a box of chocolates in front of me and I am liable to take one (or two).
Some people have willpower and can hold back, while others (like me) must have a chocolate.
When you take your phone into the car, it is for some reason much the same.
I can, on this occasion, stop myself from looking at it or using it. For others, they just cannot seem to stop themselves.
How hard is it to pull over and send that text if it is that important?
So, what can we do to help ourselves with these issues?
The box of chocolates is easy, just move the box away, or if it is my house, they don't last long either.
Those with an issue with phones in cars, you can make it easy and set your phone to ''Do Not Disturb'' when driving.
If you have an iPhone with iOS 11 or later, your phone can sense when you might be driving and prevent notifications being sent. It uses a number of signals to suss this out including the iPhone's accelerometer, the rate at which it finds and loses nearby wi-fi networks, and GPS.
Enable the feature by going into ''Settings'' and selecting ''Do Not Disturb''. Scroll down to find the ''Do Not Disturb While Driving'' section. Tap on ''Activate'' and choose between automatically, when connected to car Bluetooth and manually.
For Android, you can quickly enable ''Do Not Disturb'' mode by swiping down from the top of your screen to open the notification shade and select ''Do Not Disturb'' icon. A quick tap will enable ''Do Not Disturb'' using your pre-defined settings. To change these settings, you can hold your finger down on the ''Do Not Disturb'' icon.
I still see people driving while trying to text or laughing holding the phone to an ear. For those people, I give you something to think about:
Glance at your phone at 50kmh and you will travel about 28m blind.
Send a quick text, glancing up and down, that is about a rugby pitch of road that you are driving blind. Can an All Black run the length of the pitch blind and not get tackled
Add more speed into the mix, you get the picture.
For me, I do not believe the penalty of being caught on your phone is tough enough.
But I do not want you to get caught, so here is a simple reminder of what you cannot do on a mobile device while you are driving.
It's illegal for a driver to:
Hold and use a mobile phone at any time while driving or waiting in a queue of traffic, at an intersection, or at traffic lights.
Create, send or read any type of message while driving.
Email, use social media, video call, browse the internet, play games and take photos/ video while driving.
Perform any other activity not specifically listed while holding a mobile phone and driving, including use of the phone for navigation or to play music.
Drive safer, Waitaki.
Jason Evered is the Waitaki District Council's road safety co-ordinator