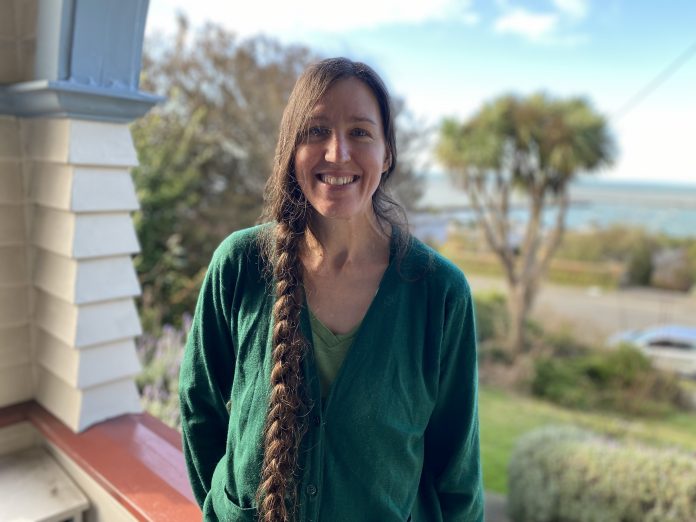 Rachel Fenton's latest literary offering has won her national recognition.
The Oamaru author has won the New Zealand Society of Authors (NZSA) Laura Solomon Cuba Press Prize for new writing, with her young adult novel Between the Flags.
The prize was created by the NZSA and the Solomon family, in accordance with the wishes of Laura Solomon, a novelist, poet and playwright who died in 2019, aged 48. The main criteria for the competition, as set by Solomon herself, was for new writing with a ''unique and original vision''.
The prize included a cash ''advance'' of $1000 and a publishing contract with The Cuba Press.
Fenton had entered Between the Flags in the Australian Text Prize 2021, and it had made the shortlist.
''So I knew it was OK,'' she said.
She had not intentionally turned to the young adult genre — the book was a sequel to her novel Some Things the English, which had come second in the Dundee International Book Prize in 2014, and was shortlisted and longlisted for various other prizes.
''It was about a blended family of four, and so this book is just one of the sequels I'd always planned to write. It just happens to be a teenage protagonist, so it gets marketed as YA, but I didn't particularly market it as a YA novel initially.''
The novel was about Mandy Melham, a 14-year-old trainee lifeguard, who lived in Auckland and competed in the surf life-saving championships.
''Unfortunately on her team are her primary school bullies, so she's wanting to get even, but something happens that de-rails her.''
The book was partly inspired by Fenton's 21-year-old daughter, who had been a lifeguard since the age of about
8.
The competition was judged by a panel made up of Mary McCallum and Sarah Bolland, of The Cuba Press; Nicky Solomon, from Laura Solomon's family; and award-winning author Tina Shaw.
Shaw said the judges loved Between the Flags.
''It has a strong, immediate voice that pulls you in, with great writing and a theme about dealing with grief that will appeal to young adult readers. The world of surf life-saving offers a strong background, while the main character's drawing of comics adds a contemporary note.''
Bolland said the book took her breath away, and she was looking forward to working with Fenton to get her book into the world, ''so more people can experience what we did''.
It was ''really lovely'' to have her work recognised, Fenton said.
''And that it's publishable, obviously, and that it connects with people the way that it did.''
She described the judges' comments as ''a bit mind-blowing''.
''Obviously, I knew it was a good story, otherwise I wouldn't have entered it — I'd already had that sort of confirmation that it was worthy to enter, from the Text Prize, so I knew that it had a lot going for it . . . but to have it actually really mean something to the judges.''
She was now in the process of going through some minor edits, and had also been asked to design the book cover.
The book was due to be sent away to the publishers next month and, all going to plan, launched at the beginning of November in Oamaru and Auckland.
In the meantime, another piece of work was longlisted in the international Mslexia Novel Competition, which was judged by Wolf Hall trilogy author Hilary Mantel.
''I submitted to that last September, and you only needed 5000 words to submit to it, which I had — that's all I had at the time — and then I thought, oh, I'll be able to write the rest of it before the next phase, and then life happened.
''So I'd got about 20,000 words when they emailed me and said that I'd made the longlist, and to be in with a chance of the shortlist, I had to have the full manuscript done, in a week.
''So I wrote it. I popped another 50,000 words out in a week, but I didn't get any further, so obviously not my best 50,000 words, but it was nice.''
Fenton liked to ''mash-up'' different genres with her work. Her Mslexia entry was based in her native United Kingdom, and she described it as a mash-up between a crime and historical novel.
Between the Flags was partially graphic novel as well as young adult fiction.
''I wanted to have a book that would be visual and good for people who aren't great readers.''
Alongside her writing, Fenton is curator at Janet Frame House between November and April. She also works part time at the Salvation Army Family Store, and does some freelance work.
Her graphic art and writing had always gone together, although she had been advised in the past to choose one genre and stick to it.
''They said I was being too patchy, all over the place, and it's not good — you've got to market yourself.
''For me, I think making the art, whatever you want to call it, and the process of that is more important than being published, and so I just did my own thing, and I think if you're passionate, and you're serious about something, you know, it'll work out for you anyway.''