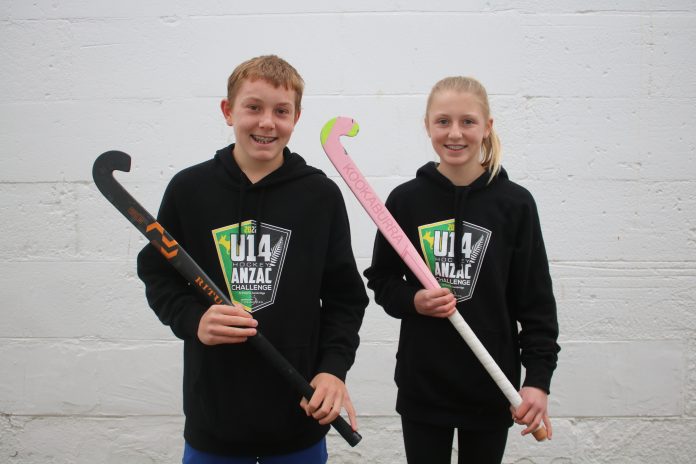 Mason Kingan and Grace Webster spent the first week of their school holidays representing New Zealand at hockey.
From July 10 to 13, the young North Otago athletes were in Cambridge at the Under-14 Hockey Anzac Challenge. They represented New Zealand at the camp and played matches against Australia.
The camp — split into groups of boys and girls — was held at St Peter's School, where the New Zealand and Australian camps had two days of training before playing four games against each other. There were two girls' teams and two boys' teams from New Zealand, and the same from Australia.
Mason and Grace, North Otago's only two representatives at the camp, said the high- intensity training sessions helped them learn new skills, penalty corners, different tactics and positional skills.
Mason (13) said it was a great experience getting to know people from across New Zealand and had enhanced his passion for the sport.
''Everyone wanted to push each other harder. Every boy had the same mindset of just playing hockey,'' Mason said.
He stuck to his position at striker, but Grace (12) was moved from midfield to right forward.
She had requested to try the new position and enjoyed learning a positional switch.
''I got better. They taught me what I need to do and where I need to go,'' Grace said.
And then came playing Australia. Rain played havoc, forcing the teams to play two games in one day and then the final two games were split over two days.
Mason's team beat the two Australian teams on the first day and lost to them in the final two games. Grace's team lost its first three matches to Australia but came back to win 3-0 in the final match of the camp.
It was an exciting opportunity for the pair to play against Australian teams.
''It was amazing. It's hard to explain but it's just like nothing that I've done before, really,'' Mason said.
''Here [in Oamaru] we play in lines and there you're cutting everywhere; you're all over the place and it's much faster.''
While it was nerve-racking to begin with, Grace soon settled in and said it was a great experience.
''It was good. It was a bit daunting for the first game but once we found out that they were the same skill as us and stuff like that, we were fine,'' she said.
Both enjoyed the competitiveness of the camp, being taught by different coaches, and getting to meet other young hockey players from across New Zealand.
''I liked the game and the speed of it. The competitiveness of everyone. It was just amazing,'' Mason said.
In Oamaru, Mason plays for the Waitaki Boys' High School development side and will have North Otago representative duties in coming months.
Grace plays for Weston and recently joined the Waitaki Girls' High School development side. It had been a big change for her, as Weston played half field hockey, while Waitaki Girls' played full field. She was grateful to Waitaki Girls' coach Shaun Cunningham for his help as she adjusted.
The pair were nominated for the national camp by former North Otago sport development officer Ethan Booth and thanked him for his support.