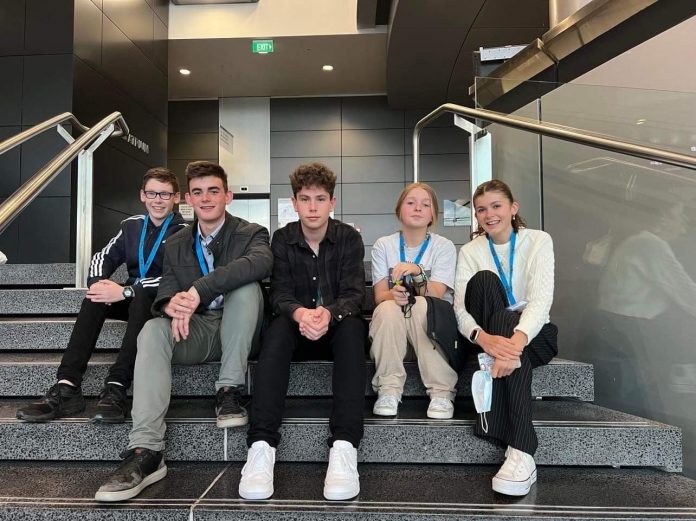 A group of five Waitaki secondary pupils joined other teenagers from around the country earlier this month for their own General Assembly.
Molly O'Sullivan (14), Sophie Brown (14), Lachlan Wright (15), Jett Rodgers (14) and Lucas Harnett (14), all year 10 from Waitaki Boys' and Waitaki Girls' High Schools, attended the Auckland Model United Nations (AMUN) 2022 conference earlier this month, run by UN Youth NZ.
About 200 students from across the country took part in the two›day conference at the University of Auckland which was designed to help high school students develop a global mindset on the pressing issues facing the world today.
Most of the Waitaki pupils were part of a larger group which attended a Model European Union meeting in Dunedin in June.
Waitaki Girls' social science teacher Jessica Wright said they had seen the Dunedin event as a great opportunity to ''challenge our motivated learners''.
Over two days, they discussed and debated freedom of expression and information from the perspective of an EU nation.
''They came back from the Model EU fizzing. I was very proud of how hard they worked to prepare and that they were willing to get outside of their comfort zones. They excelled, and the feedback from the organisers was very positive. ''They were very keen for similar opportunities and then the Model UN opportunity arose — a similar concept, but on a much larger scale.'' Rebecca O'Sullivan, mother of Molly, said the children loved the Auckland conference, and their confidence grew immensely over the weekend.
The theme was UN + LEASH | WETEKIA to reflect how rangatahi (young adults) are a powerful, unstoppable force with the ability to change the world as we know it, the UN Youth NZ website said.
The conference was modelled on the United Nations General Assembly, and delegates were assigned a country and represented its position on a series of topics in committee sessions.
Throughout the weekend, the pupils were also involved in interactive workshops, discussions and speaker panels.
They were fed information during the week leading up to the conference, the country they were going to be representing, what committees they would be on, and the issues they would be addressing so they could research their given country and have the background knowledge to start the conference with confidence, Mrs O'Sullivan said.
Molly said she had returned from the conference feeling more empowered to contribute her voice to school committees.
Sophie had made ''so many cool connections'' and she was excited about keeping in contact with them.
Lachlan ''got so much out of the conference, and loved the speaking/debating and getting amendments passed''.
Mrs Wright said, from her perspective, the Model UN had further inspired the students to think globally and from different perspectives.
''Something we really need in our society.
''For me it was another example of how many of our teenagers are engaged and enthusiastic about learning . . . and being able to use these lessons in our region and country.''