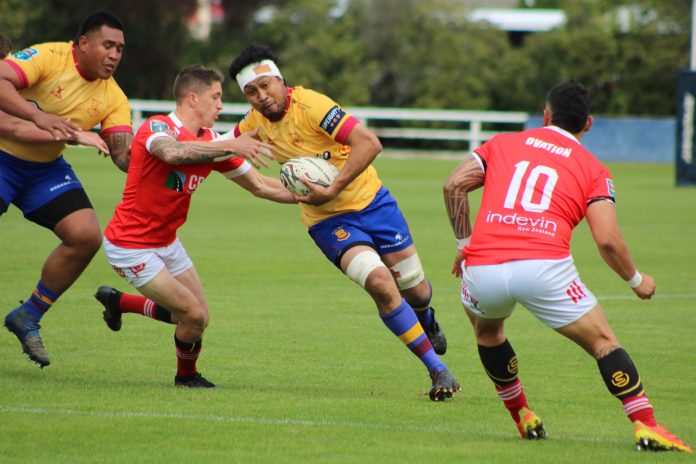 Sunday was all about doing it for Manulua Taiti.
North Otago did just that, beating Wairarapa Bush 35-5 in its opening game of the Heartland season, marking the vice›captain's 50th cap for the Old Golds.
Head coach Jason Forrest heaped praise on Taiti, saying his workload during the win was ''outstanding''.
''But that's just Manu,'' Forrest said.
Taiti has been labelled the heart and soul of this year's team, and the players spoke about wanting to get the win for him.
''The boys talked about it themselves, not letting their brother down — that was player-driven, which is awesome.''
The loose forward and lock had a ''phenomenal'' work rate, got on with his own job, and helped set an example for the team as a leader.
All those attributes were on show on Sunday when North Otago stamped its mark on the season.
Forrest said it was a great start to the campaign, but there was always plenty to work on.
''It wasn't a polished performance, but it was a good performance to start our season. The promising thing is we probably left 30 points out there, to be fair, as well.''
North Otago's scrambling defence was solid in the second half, not letting Wairarapa Bush score, and it showed the ''ticker'' of the team.
''It's just the mental lapses in concentration at the moment that are letting ourselves down and letting teams back into the game,'' he said.
There was some good individual performances — Mone Samate, Seta Koroitamana, Kelepi Funaki, Hayden Todd, Matini Feke — but the team struggled to work as a unit in phases.
Forrest will be hoping to tidy those up for tomorrow's match against Buller at Whitestone Contracting Stadium.
Buller got its first win in three years against Mid Canterbury last week and North Otago will need to step up in front of its home crowd.
''We're going to have to be better, but we just need to fix up a few things of our own.
''This team just needs to believe how good they can be.''
North Otago plays Buller at Whitestone Contracting Stadium at 2.30pm tomorrow.