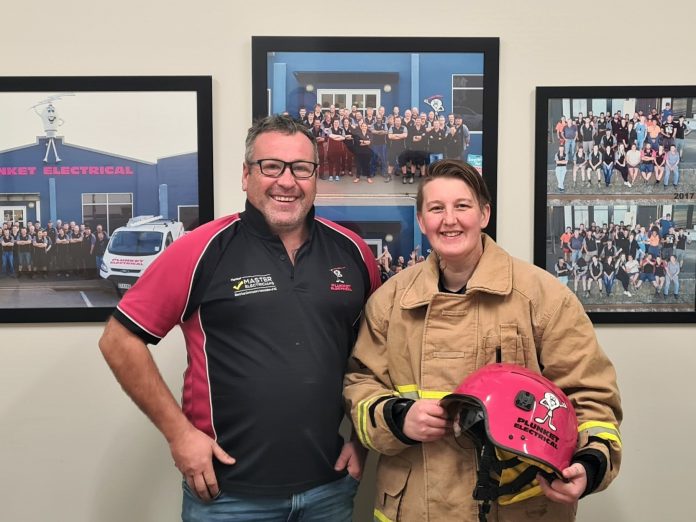 Training has been heating up for two North Otago women taking part in the Firefighter Sky Tower Challenge this weekend.
AJ Burton and Kelly Harvey are both travelling to Auckland to take part in their first challenge tomorrow, but have different reasons for competing.
Miss Burton, who is part of the Waitaki Rural Volunteer Fire Brigade, but is competing as part of the OceanaGold team, has had to overcome health issues while training for the leukemia and blood cancer fundraiser.
''I'm unfortunately riddled with arthritis — I just found out within the last six months, so that's been a bit of a learning curve for me,'' Miss Burton said.
The medication she was on was very similar to that received by cancer patients.
''It just wipes out your immune system, so with Covid and the flu going round at the moment, I've just been catching everything.''
She had been compelled to take part in the Sky Tower Challenge because her step› father had recently been diagnosed with Stage 3 Hodgkins Lymphoma — atype of blood cancer.
''So when you're feeling a bit helpless for your family, you sort of want to do what you can to show your support for them.''
Miss Burton said she would be happy just to reach the top of the 51 flights of stairs, as the training had been a challenge in itself.
''A bit of perseverance, a bit of pain, but it is for a good cause. Probably the bit of pain that I'm suffering is nothing compared to what they (cancer patients) go through.''
She had raised about $4500 so far.
''The community's been very amazing and very supportive. Especially in a little community like this, it's been great to get the backing from them.''
For Weston Fire Brigade member Kelly Harvey, the Sky Tower Challenge is something she has always wanted to do.
She passed her recruit's course to wear the breathing apparatus in May last year, and had recently completed her qualifier course.
Ms Harvey was regularly training at Oamaru's Snap Fitness in the full 25kg of kit – boxing and using the stairclimber to practise climbing the 1103 steps.
She felt good about her training, and placed the credit with her personal trainer Kayleigh Whitburn.
''She's been incredible. Pushing me, and helping me.''
Ms Harvey, who owns Tutu Hill Cakes and Cookies, had been raising funds the way she knew best — by selling and raffling her baking. She has made approximately $2000.
She was looking forward to the whole atmosphere of the event, and was mostly just nervous because she had never done it before.
When the Oamaru Mail went to print, the event had raised a total of more than $995,000 — with the team from OceanaGold Macraes having raised the fifth largest amount in the country, more than $25,000.
Ms Harvey was competing with fellow Weston Fire Brigade member Bernie Miller, while Brad McIntosh and Tane Rogers, of Oamaru Fire Brigade, were also taking part.
She was grateful for all the support she had received in the build-up to the event.