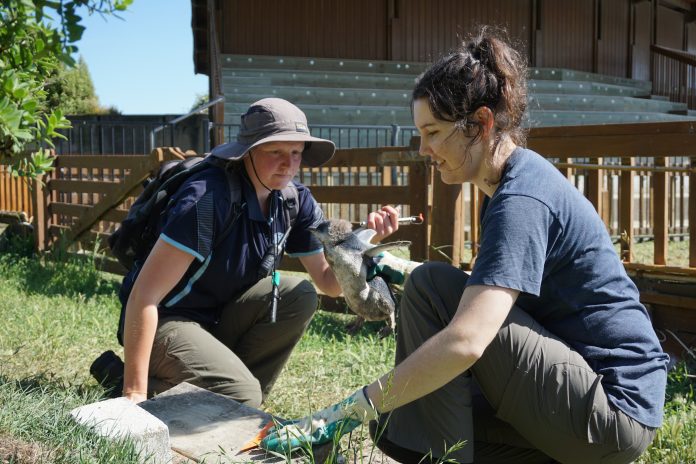 Typically for Oamaru's blue penguin population, 20 to 30 eggs are laid weekly during laying season, but this year, stormy conditions meant an influx of more than 400 penguins in one week.
However, the unusual occurrence has provided an opportunity to train wildlife staff from throughout the South Island.
More than 400 eggs were laid at the the Oamaru Blue Penguin Colony and Oamaru Creek Reserve colony in a single week during August following the winter storms.
Those storms dirtied the water on the shores which disrupted the routine of the town's penguin population.
Oamaru Blue Penguin Colony science and environmental manager Dr Philippa Agnew said the murky conditions meant the penguins could not forage as much, as it was harder for them to see and catch fish in the ocean.
The birds would only lay when their bodies were ready, which meant hundreds of birds had their laying delayed, so when the storms cleared, hundreds of birds started laying at the same time.
The influx of eggs was ''very unusual'', Dr Agnew said.
Each of the chicks had to be microchipped at 6 weeks old, so they could be tracked out at sea, but the devices could only be implanted by those with the correct training and certification.
To get that qualification, a trainee had to work on a real chick, under the supervision of a trainer.
With 400 chicks to chip, nine trainees — including a group from Marlborough, some from Dunedin, and local Department of Conservation staff — came to Oamaru to learn and help out.
The colony had seen an overall increase in the penguin population and was faring well.
When Covid-19 hit, the colony lost 90% of its revenue and had to rely on Government relief funding to operate. Now visitors had returned and the numbers were climbing, which would help fund the increase in penguins.
Tourists were not the only ones flocking to the colony. The record for most penguins returning in one night was broken — 477 birds were counted on November 5.
Breeding pairs also increased — 269 pairs were recorded at the Oamaru Blue Penguin Colony, up from last year's 239, and 157 at the Oamaru Creek Reserve colony, compared with 137 last year.