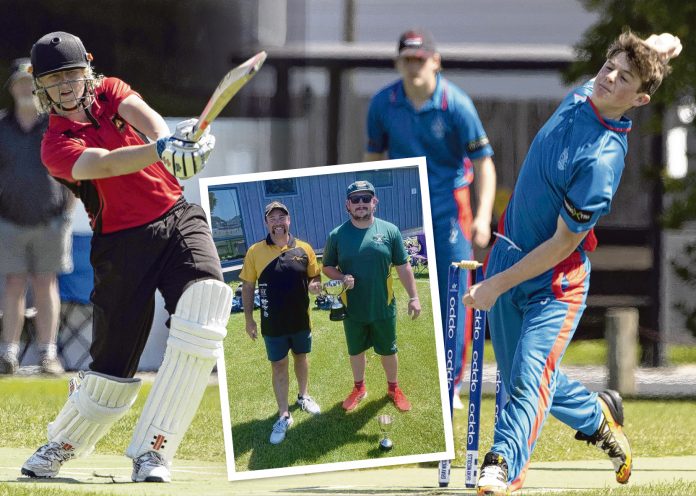 Albion remains undefeated in the Borton Cup after a 104-run victory over Glenavy last weekend.
Both sides were undefeated heading into the top-of-the-table clash.
Glenavy won the toss and elected to bowl, putting Albion under pressure with early wickets to leave it at 62 for five early on.
But a fine knock of 91 from Hawke Cup representative Amal Ashok helped his team to be all out for 206.
It was an impressive innings during difficult circumstances, Albion captain Ricky Whyte said.
''When he came in, we were definitely under the pump and he just batted away. He got a start and then when he needed to, he put the hammer down to kick us off along to a good score.''
He also credited the team's lower-order batters for sticking with Ashok.
''This season our tail has been fighting pretty bloody hard to put some scores on the board.''
Glynn Cameron was the star with the ball for Glenavy, finishing with four for 26.
Glenavy's chase was never able to gain any real momentum as the Albion bowlers were able to take wickets at regular intervals. The Rangers were eventually bundled out for 102. Ryan Moffat scored 23, which was the only real contribution.
Opening bowler Hayden Creedy did the damage for Albion, taking four for 33.
It has been a dream start to be undefeated heading into the bye this week, Whyte said.
''If you'd have told us that at the start of the season, we'd probably have thought you were pretty crazy.''
The win not only kept Albion at the top of the standings, but it also retained the Marshall Smith Memorial Trophy and the Payne Tempero Cup.
Retaining the trophy was extra special for Whyte, who is the only present Albion player to have played with Smith.
In the other games, St Kevin's College was able to open its account for the season with a sixwicket win over cross-town rival Waitaki Boys' High School.
Batting first, Waitaki Boys' was all out for 103.
Sam McCarthy picked up three wickets and Ben Kay chipped in with two.
St Kevin's made a horror start to its run chase, losing its first three wickets for just five runs.
But a 63-run partnership from Liam Direen and Harry Murphy (28 from 29) got the team out of trouble. Direen finished unbeaten on 54 from just 42 balls to steer his side to victory in the 18th over.
Lochie Mavor was the best of the bowlers, finishing with three for 34.
Union was able to bounce back with a win over Oamaru by five wickets. The defending champion was bowled out for
135.
Stephan Grobler top-scored with 42 for Oamaru and cocaptain Lachlan Brookes also chipped in with an unbeaten 27.
Rylie Rooney had an impressive day with the ball for Union, claiming figures of four for seven. Union's run chase was anchored by the experienced Duncan Drew (48) and captain Blake James (38).

THIS WEEK
Oamaru will host St Kevin's College in a rematch of last season's Borton Cup final.
It has not been a great start to the season for the defending champion, but the team will be looking to turn it around this weekend, Oamaru co-captain Lachlan Brookes said.
''[The team is] really excited, really fizzed. This is a game we'll probably be looking to target as a must win.''
Oamaru will need to improve its fielding efforts to beat the school side, he said.
''Our fielding has let us down in recent weeks, I'm guilty of it as well, but getting our fielding up to scratch [will be key].''
Valley — sitting in second place — will take onthirdplaced Union, as both teams try to chase down top-of-the-table Albion.
Waitaki Boys' will play Glenavy. Albion has the bye.