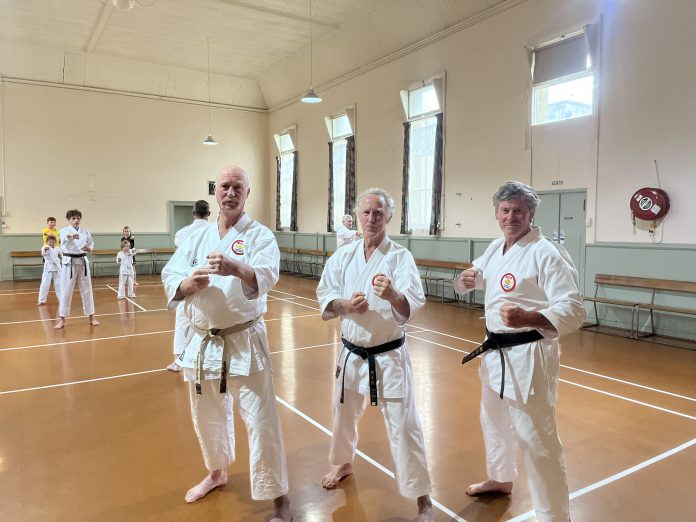 Three North Otago senseis have achieved some of the highest ranks possible for karate black belts.
Grant and Rodger Deed reached the seventh dan and Peter Newberry the sixth dan during a grading earlier this month.
The ranking system was used to show further progression for black belts, and was a test of their knowledge, Grant said.
''With the level we're at, they're very technical gradings.''
Karate was more than just a hobby for the trio, who had been training in the martial art for more than 40 years.
''It's a way of life, really. It's sort of like a journey,'' Grant said.
''It's an art, so you've always got to work hard, so you've always got to be training.''
While he was not religious, the sport was like a religion, Newberry said.
''It's something you adopt . . . and away you go with it.
''Basically, [it's] about trying to be better than you were the day before.''
All three were inspired to take up karate after watching Bruce Lee movies when they were younger.
''They were the only sort of movies that were around then. It was Bruce Lee or Kung Fu on TV,'' Newberry said.
All three were Shihans, or instructors, and taught at the Oamaru Karate Club, which was celebrating its 50th anniversary next year.
Rodger said it was important to teach the children self-discipline.
''They come into here, this is our dojo, they have to abide by our rules. It's not a heavy discipline, but it is self-discipline.''
Grant had also been running camps in Kurow for 30 years. Karate was more than just fighting, Newberry said.
''It's not just about, which most perceive these days is, just kicking and punching. You learn about yourself.''
They were also members of the Kanbukai for Karate Do New Zealand.
The Kanbukai is the executive council of Shihans who oversee the direction of the organisation and its members. Despite being in their 60s and 70s, they would continue on their journey, Rodger said.
''We're not young people, but we still do it, and the fitness you get through training keeps you in good stead. ''It's a lifetime thing, I'll be training until I pass.''