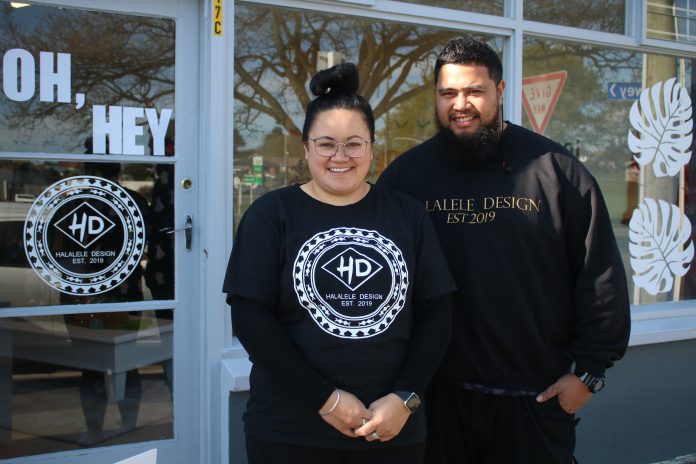 Mrs Halalele and her husband, Sione, had been holidaying in Tonga in 2019 when they were inspired by all the T›shirts for sale over there.
''So we bought a whole lot of equipment, had no idea how to use it, and here we are nearly four years later,'' she said.
The couple had not really been looking for a business idea, but identified a gap in the market they felt capable of filling. They started out working from their home garage.
The business does custom printing, mostly on clothing such as sports and school uniforms, but could also print decals for shop windows and cars.
''Anything really, we can print on to . . . whatever anyone wants, we kind of just figure out how we can do it.''
Mrs Halalele mostly ran the business, with her husband at hand when required.
''I call him in when I need him.''
Covid-19 presented a challenge, but being at home without the extra cost of running a store was a blessing, and they were kept busy home schooling their three children, aged 12, 8 and 4.
''It was hard, because we were at home, but we weren't allowed to trade. But we made it,'' she said. The shop officially opened on Monday, with a private blessing and ceremony for family tonight. ''Mind you, when we say family, that's quite a few people.''
The premises had been set up like a ''little hub'' for small local businesses, to help them get a foothold in the market.
''I'm all about supporting small, because I know what it's like to be the little fish in the big pond.
''So just giving them some exposure and helping them, if they want it to be a legit business. Because we just sort of winged it — YouTube and Google were great,'' she joked.
Businesses being showcased included Nuinuku, with its recycled wood chopping boards, and Mele Fifita's puletaha (traditional Tongan clothing).
''She sews them. We've collaborated with her quite a bit, because we can print them. So she'll make a plain one, and then we can print patterns on them, so it's quite cool to have her in here,'' Mrs Halalele said.
They were also collaborating with Laura Campbell-Cowan, from Sew Cute by Laura, and would be making personalised Santa sacks in the lead-up to Christmas.
''They were huge last year.''
Having the doors open to the public was almost a relief for the couple, who had both been studying, working, running the business from home, and raising their children.
''It was pretty full-on . . . but we made it. It's pretty cool though, to show the kids you can do it. The learning never stops.''
Halalele Design would be open Monday to Friday, from 9am to 2pm.