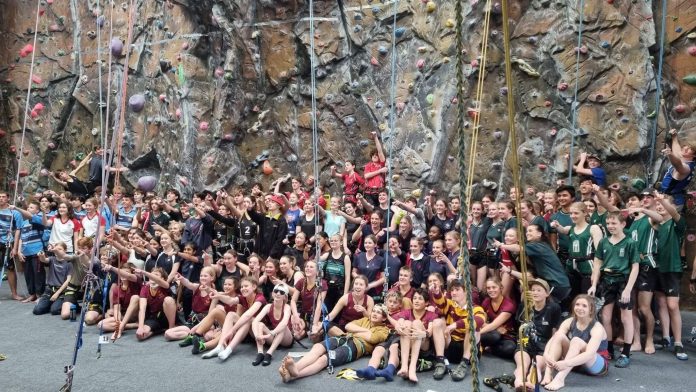 Oamaru has produced a team of aspiring rock stars.
Four high school pupils recently competed at the two-day South Island secondary schools' rock climbing competition in Christchurch. Representing Oamaru were Tilly Connolly (14), a year 9 pupil at St Kevin's College; her brother Sid Connolly (16), a Waitaki Boys' High School year 11 pupil; Andy Haywood (17), a year 12 pupil at Waitaki Girls' High, and Larnie Davidson (16), a year 11 Waitaki Girls' pupil.
Tilly was roped in at the last minute after one of the Oamaru climbers suffered a damaged finger, her father and team coach Rob Connolly said.
He was delighted with the team's performance, finishing 11th out of 33 entries.
''They did incredibly well.
''It was fun, but quite hard.''
The climbers had to complete 33 routes up rock walls on the first day and 16 on the second, some of which were overhanging.
''It was physically very tough,'' Mr Connolly said.
The competition was ''really well run''.
It was the first time Oamaru had been to the competition. Last year's event was cancelled due to Covid.
The team was selected from the young climbers who practise at the Waitaki Community Recreation Centre's rock and bouldering walls. That was a ''perfect'' training area, Connolly said.
They go there once or twice a week.
The Waitaki Girls' pupils were recruited from their school's climbing club, which has lunchtime activities. The others took part in a programme Connolly ran at the start of this year, which attracted 30 to 40 people.
''I think it's gaining in popularity,'' he said of sport climbing, which made its Olympic debut in Tokyo last year.
''We have peaks and troughs.''
Sometimes several keen families would take part, then there could be a lull in numbers before new climbers came along.
''It's not a team sport,'' Connolly said. He described it as suited to people who liked adventure but did not want to participate in team sports.
He has been a climber since the age of 15.
''I'm thinking about running an introductory course.''
Oamaru would ''definitely'' put a team in next year's secondary schools' competition, he said.