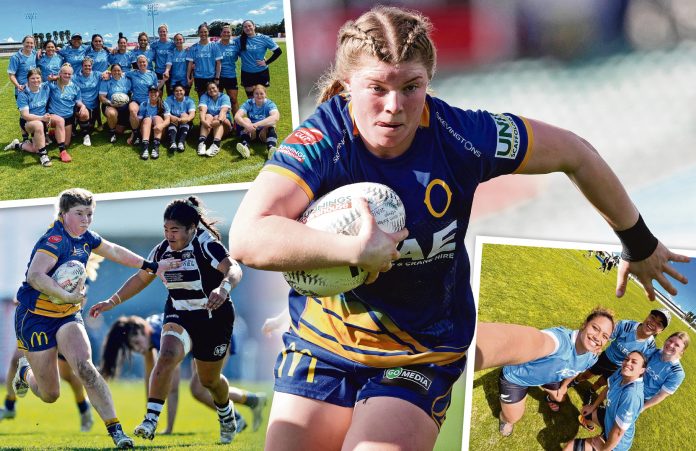 It has been the most intense and rewarding month of Cheyenne Cunningham's life. Kayla Hodge catches up with the Otago Spirit's players' player of the year about all of her rugby dreams finally coming true.
She could hardly baa-lieve it.
Deep in the Kurow countryside, Cheyenne Cunningham had just finished tailing her first mob of sheep for the day, when her phone dinged with a text that solidified everything she had been working towards.
It was from Black Ferns assistant coach Whitney Hansen, asking the Otago Spirit centre to fly to Auckland to be part of a training session for the Black Ferns wider training squad.
''I was very shocked. I had to read it like five times . . . and then she rang me and I was like 'holy sh . ., this is happening','' the 22-year-old said.
''Those opportunities don't come around very often so I've got to make the most of them.''
So she did, jumping on a plane last Saturday to train for three hours with the group, before flying home later that day.
While the Black Ferns were not involved in the training, the day was spent with Black Ferns Sevens players, and others from the Farah Palmer Cup, all of whom could be pulled into the Black Ferns as injury cover for the Rugby World Cup.
''It was a pretty cool opportunity. I felt like a bit of a lost puppy up there, but they were very helpful and just took me under their wing.
''I was just trying to take it all in. It was pretty cool just to train alongside these previous Black Ferns. They were good value.''
Then on Monday, Cunningham received a call from the Black Ferns Sevens management about joining the team for a training camp, with the possibility of playing a couple of games.
''I'm just speechless. It all happened so quickly in the last month.''
As if getting a double call-up was not enough, Cunningham has signed with Matatu for next year's Super Rugby Aupiki season.
Making the South Island team had been her goal since the introduction of Super Rugby Aupiki this year and she worked hard during her sixth season with the Otago Spirit to prove she deserved to be there.
She will make the move from Kurow to Matatu's base in Christchurch for three months early next year to get the most out of the opportunity, she said.
''I guess it just shows how hard you work, and hard work pays off, eventually.
''Finally for me it is. I've played rugby my whole life . . . for me, I think I've said within the next five years I'd love to be a Black Fern, or representing New Zealand in some way —just to even get to that next step of rugby and obviously them bringing in Super Rugby is pretty bloody cool too, and gives girls the next option, the next level of rugby.''
Cunningham has been dominant this season for the Spirit, finishing with nine tries as the top try-scorer for the Farah Palmer Cup.
A positional shift from fullback to centre had paid dividends. It gave her more ball, the opportunity to run freely and ''kind of do my own thing''.
She set goals for herself throughout the season and was more motivated than ever to take her career to the next step.
''Obviously last year I didn't really have any hope [making Matatu] but I was like 'that'd be pretty cool to do that'.
''I was like, 'I'll make that a goal for next year and if I do then that's awesome, and if I don't, I can just work even harder next year to try get in'.''
It helped having a great group of girls surrounding her at the Spirit, culminating in her ''favourite'' season yet, she said.
''The culture was awesome this year.
''We've had really good coaching, good management and the girls got on with each other.
''We knew we had a job that needed to be done, so we just bonded really well together.''
For now, Cunningham was just taking it all in, and was back in her element on the farm, having recently switched from being a shepherd to part of a tailing gang for Tim Anderson Contracting.
''I was kind of hoping things with rugby would fall into place and they have.''