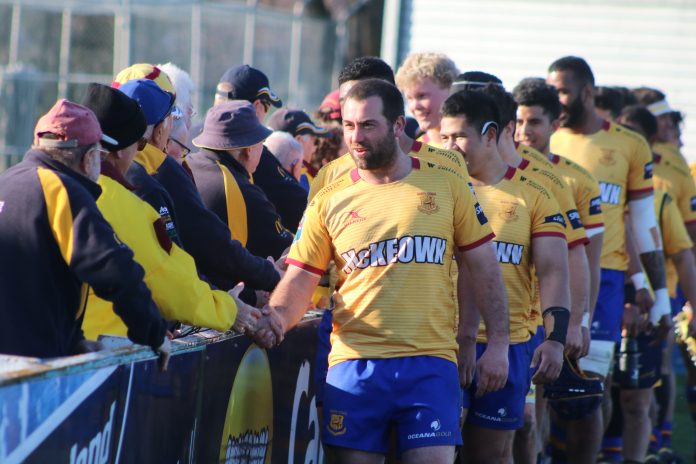 Josh Reid has had a golden run.
It has been a big couple of years for the Kurow captain, leading his beloved Red Devils to their first Citizens Shield championship in 39 years, and then backing it up again this year.
His breakthrough season last year led to an initial call-up for Heartland honours, but with Covid-19 pushing the season back, Reid was ''gutted'' to withdraw due to work commitments on his family's Waitaki Valley farm.
This season, however, has been a different story, with Reid cementing the Old Golds openside flanker jersey as his own, and rightly so.
The workhorse has been into everything in the first three rounds, leads by example, and his quick transition to be over the ball and securing the turnover at the breakdown has been second to none.
It has been a step up to play at a representative level, but the physicality in North Otago club rugby, and the speed and structure from his time with his former club Taieri, in Dunedin, gave him a good background.
He was relishing the opportunity to pull on the gold jersey, playing alongside a ''good group of guys'', filled with X factor, and had every faith in the team to go the whole way.
''I think if everyone can probably buy in and if everyone realises we've got the team to win, I think we can get the job done,'' Reid said.
He is in good company too, with a handful of Kurow players putting their hands up for the Heartland side.
''I think sort of in Kurow we've built a culture that if you work for the man hard next to you, he's going to do the same for you.
''Hopefully in the years to come Kurow can keep getting names in there.''
Reid is gearing up for his biggest and most personal test yet, when the Old Golds play their first game in his hometown tomorrow.
North Otago Rugby has elected to take its round four clash against Mid Canterbury up the valley — and with the entry fee being waived, a large crowd is tipped for the domain.
''As a young kid I used to go to North Otago games with my parents, and others, and to be able to play for North Otago in Kurow is pretty special for myself,'' he said.
Kurow is packed with diehard rugby fans, the town was ''buzzing'' to host the match, and Reid heaped praised on North Otago, and other Heartland unions, for taking games to the country.
''What Heartland's doing at the moment, getting games into small towns is huge because that's sort of your backbone of the Heartland rugby.
''It's great. You couldn't probably pick a smaller town in New Zealand to do it that's probably more fizzed up for it.''
North Otago is coming off a tough 36-17 loss against defending Meads Cup champions South Canterbury. Reid, who will start at flanker, knew the side needed to be better and muscle up in the forward pack.
''We've got the talent in the backline. If we can match them up front, be dominant, get our set pieces right, win the breakdown, we can come away with the goods.''