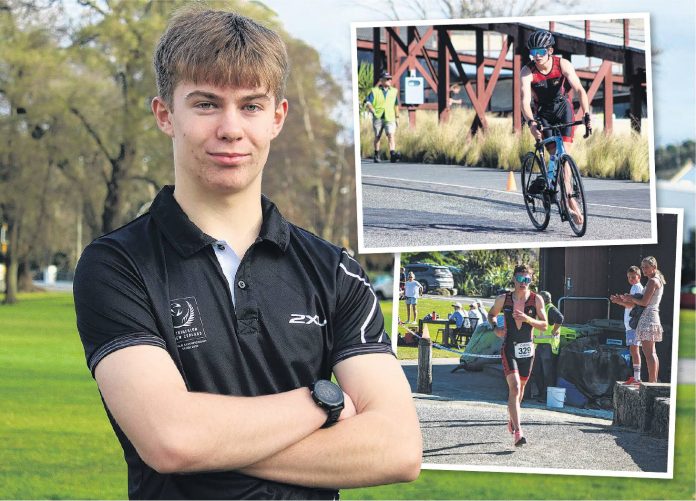 Jakob Cunningham broke a strict Waitaki Boys' High School rule to receive the news of a lifetime.
Despite the Oamaru secondary school having a no-phone policy during class time, when the sports prefect heard a text come through during class, he could not help but have a sneaky look under the table at the message.
It was from his mother, Stacey, who was letting him know he had been selected to represent New Zealand at the World Triathlon Championship finals in Abu Dhabi, in November.
''Bit of a shock really,'' Cunningham (17) said.
''I'm pretty stoked. It's been one of my goals for the longest time ever.''
Jakob, who will compete in the under-19 super sprint on November 24, said it was exciting to test himself against people from across the world, after racing regularly against the same people in New Zealand.
''Just getting to race for New Zealand sounds pretty cool and is pretty cool.
''Hopefully, it may be a start of something big. It might be a one-time thing, but sort of hope for the best.
''It'll be pretty cool to see not only where I sit but others from New Zealand sit with the rest of the world.''
Jakob contacted Triathlon New Zealand months prior, asking about the process for putting himself forward for future national selections — not expecting the call-up so soon. Triathlon New Zealand took a while to respond and, when it did, it asked him if he wanted to be part of the team heading to Abu Dhabi.
''They just sort of had a look at my race at nationals and went from there.''
He finished seventh in the under-19 boys category at the New Zealand Schools Triathlon Championships in New Plymouth in March. While it was not the result he was after, it took everything he had to make the top 10 after having the ''worse lead-up possible'', suffering with illness for about a month.
Jakob will continue his training regime with the Canterbury Triathlon Academy, which he joined in April. He was previously coached by Coast to Coast and Challenge Wanaka winner Dougal Allan.
The next two months will be ''base building'' and from September, training will ramp up and become more race-specific. He will also work towards acclimatising to the heat, training while biking indoors with a heater on. It will be a big change racing in humidity and he has never left New Zealand before.
Jakob got into the triathlons aged 9, taking part in the Junior Challenge Wanaka, while his mother's partner, Mark Esselink, was in the open event. He placed second in his first event and thought, ''I'm not too bad at this''.
''I kept doing it and then once I got to high school there was a good group of senior boys that I sort of looked up to that did it and then sort of pursued it from there,'' he said.
Having three different disciplines to test himself in kept training interesting and allowed him to use his other passion, mountain biking, to work towards his triathlon goals.
''You can also do a lot of variety.
''All biking works and mountain biking in North Otago's really big, and there's some good people to go with, which helps.''
The support he received from businesses and community groups had been ''absolutely incredible'' and he was grateful to his family and friends as well.
''Without their help, it still would have been a possibility that we could go, but not as likely. This has sort of set us on that we can definitely go,'' he said.
''I suppose with being in a smaller community . . .they get behind the people.''
Jakob will hold a quiz night at the North Star on August 16 and is also organising a cheese roll fundraiser. Anyone interested in entering a quiz team or ordering cheese rolls can contact him on 027 589-7612.