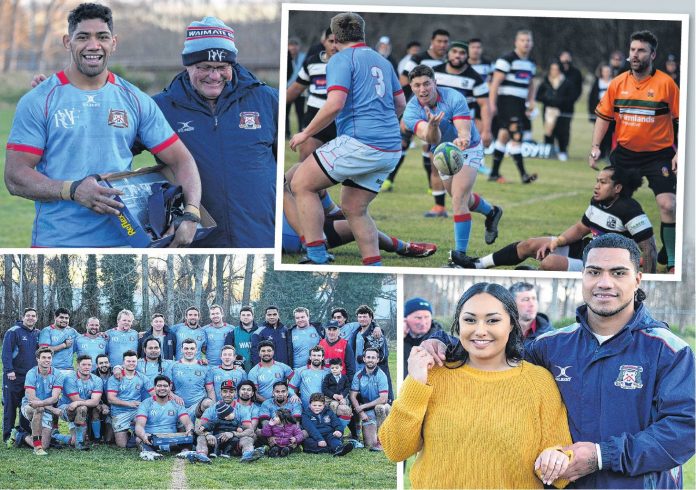 Waimate Rugby Club's semifinal on Saturday was filled with success, surprises and special moments.
Waimate produced the game of its season, thumping defending Hammersley Cup champion and top-placed qualifier Temuka 29-8 in its semifinal. Waimate will now play Celtic in the South Canterbury club final at Pleasant Point tomorrow,.
President Matt Hayman said it was a the first time Waimate had beaten Temuka in a while and it was a massive achievement to reach the final.
The group executed its game plan ''perfectly'' and had been building to this moment all year, helped by players returning from injury.
''It's just I guess the fruits of the labour. We've worked so hard all year and finally it's getting close to the peak,'' Hayman said.
Saturday's game marked Loni Toumohuni's 100th appearance for the club and players performed a special haka for him.
Toumohuni and prop Tokoma'ata Fakatava moved to Waimate from Tonga in 2013. Both players were part of the South Canterbury team that won the Meads Cup last year and were both selected for the New Zealand Heartland side.
''For them both to have got their 100 games for the Waimate club, it's an awesome achievement,'' Hayman said.
''They're really liked within the team and the club and within the community.''
The day was topped off when club member Clarence Morii proposed to his partner Ame Tominiko in front of the team and supporters. The proposal came as ''a bit of a surprise'' to some players but Morii hinted something was planned.
''A couple of us seemed to know what was going on,'' Hayman said.
Waimate last won the Hammersley Cup in 1995. The club had made several final appearances since then, most recently in 2020 and 2018, but had been unable to claim the title.
''It's got to the stage where the current players' parents were the ones that won the last time,'' Hayman said.
''It's been a long time between drinks for us.''
Finals fever has hit Waimate and the community is getting right in behind its team. The South Canterbury town is painted blue and red this week, with balloons and shop windows decorated in the club's colours.
The support for the club was great, and the final would be a big moment for the team, Hayman said.
''It's always daunting. You're on the verge of something awesome because it's been so long since it happened.
''But obviously [the support's] amazing to have . . .everyone's talking about it which is amazing. It connects everyone in the community.''
The final will be live-streamed and Hayman said there had been international interest.
''I've already had one person, in particular, from Australia messaging me about it,'' he said.
''It's really cool how all around the world there'll be Waimate people getting together to witness what's going to happen on Saturday.
''We really hope we put on the show that it deserves and can finally bring it home.''