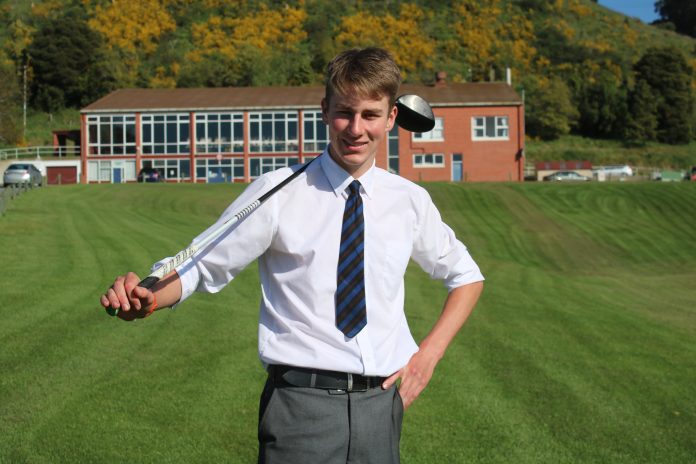 Lachlan Coutts is never found far from a green.
Whether at his local Lower Waitaki Golf Club, or representing Otago against Canterbury, Lachlan is right at home.
The St Kevin's College pupil made a stunning start to his representative career, scoring two wins, a half and a loss for Otago Under-19 at the Hororata Golf Club in Christchurch last weekend.
Lachlan won his singles match on Saturday morning, but he and partner Noah Novacek, of Queenstown, lost the 4BBB with two holes to go.
The next day, Lachlan and Noah won their foursomes match one-up, and Lachlan went on to halve his matchplay game in the afternoon.
''The results were pretty good for my first main time playing for Otago with lads like that,'' the 17-year-old said.
''I was pretty happy.''
After playing in tournaments in Dunedin, Queenstown and Christchurch over the past 18 months, Lachlan was selected to represent Otago Under-19.
He said he loved the opportunity to represent the region and play alongside new players.
''Just meeting a lot of the other lads around my age — just real good buggers.
''It's like a different format, and obviously you want to play well to represent the region and put, like, good results to your name, because that's how you get picked again.''
It had been a big week for the golfer, after winning the Balmacewen division two plate last week. The trophy was the biggest he had won to date and he was rapt to bring it home.
But Lachlan is not stopping there — next week he will play in the New Zealand Amateur at the Otago Golf Club, at Balmacewen.
About 140 players from across the country will converge on the Dunedin golf course to play 36 holes of strokeplay over two days. From there, the top 32 make the cut to compete in matchplay for the title.
He was excited about playing in the national competition for the first time.
''It's quite big.''
Lachlan grew up on farms throughout North Otago, before his family moved to a farm next to the Lower Waitaki Golf Course.
His father, Gerard, got him into the sport at the neighbouring golf club nearly seven years ago, and he loved meeting new people through the club.
''There's a really good social aspect and a lot of different people that have done so many things and some great stories you hear,'' Lachlan said.
When he left school at the end of the year, he planned to head to Queenstown for an electrician's apprenticeship and to be closer to his coach, Ben Gallie, Lachlan said.
The pair had spent little time together, but Lachlan felt he had already improved.
''I've got a lot better.
''I've kind of had bits and bobs from different people, but never really clicked with someone, like [with] Ben — it's really good.''
He wanted to see how far he could take his golf career in the future.
''I want to try pursue golf, but I do know that only a couple hundred people make it in the whole world. [It's] good to have an apprenticeship to back that up, because you've got to be realistic.''