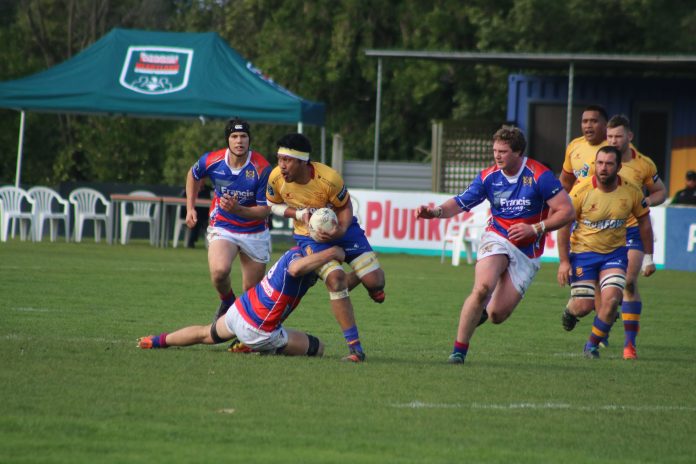 North Otago and South Canterbury have always had a fiery rivalry.
But things are heating up this weekend, with both Heartland teams in red›hot form heading into tomorrow's derby.
North Otago is heading north to take on South Canterbury in Fairlie — Timaru's Alpine Energy Centre is being revamped — with the Phil Gard Memorial, Hanan Shield and Doreen Cup on the line.
North Otago will be full of confidence after decimating Buller 71-10 last week and booking its spot at the top of the table. Defending Meads Cup champion South Canterbury is third, after beating Horowhenua Kapiti 53-20 and Thames Valley 23-17 in its opening games.
Old Golds coach Jason Forrest said South Canterbury was the ''pinnacle'' of Heartland rugby and his players would need to step up another notch.
''They're big, they're physical — we've got to match that,'' Forrest said.
''We've got to front up physically, and then just take our opportunities when we can, because we won't get many against these guys.''
It will be a big test for the young North Otago team, but keeping up the momentum from last week was crucial.
''We just need to believe. If we can do that to teams, a very good Buller side, then we can do it to any team.
''We've just got to do those little things a little better, especially around the contact points, around the breakdown and the tackle.
''It's a really big, big, big couple of weeks for us in regards to confidence going up there, getting all the cups and trophies back in, and then retaining [them], hopefully the week after, against Mid Canterbury.''
But the Old Golds' build-up towards South Canterbury could not be better, with Forrest rapt at the team's performance against Buller.
''You don't score 70-odd points and not be pretty happy with that performance.''
The Old Golds showed fitness on defence, built phases and, on attack, executed to score at nearly every opportunity.
''When we had opportunities, we took them, and that's pretty promising, especially moving into this week's game against South Canterbury.''
While Forrest would have loved to keep the ''try sheet clean'' for Buller, he was still proud of the defensive effort, to keep the men in blue out for most of the match.
Kelepi Funaki and Otago loan player Rohan Wingham scrummed well together in their inaugural first›class match together, and Forrest was pleased with the set›piece overall. There was good depth in the front row now, with Lisivani Tuifua and loan prop Alex Nettleton, he said.
Hayden Todd took over the kicking duties and showed good accuracy in that area, but there was still room for improvement in kicking options around the park, he said.
A large contingent of supporters — including the North Otago Rugby Supporters Club — are heading to Fairlie for tomorrow's match. Forrest and the team was grateful for their support.