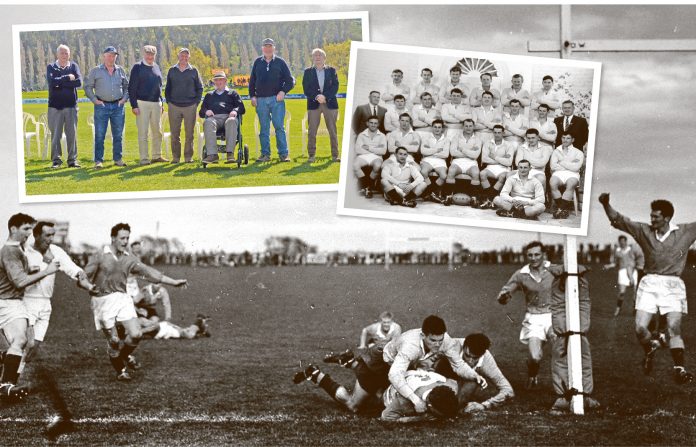 It has been 60 years since North Otago created history and beat the Wallabies. Kayla Hodge tracks downs Ian Edmondston to hear his memories of the day, at the team's 60th anniversary last weekend.

Ian Edmondston can still remember the longest 20 minutes of his life.
It was September 4, 1962, at a packed Oamaru Showgrounds where Edmondston, a flanker in his first season with North Otago, held his breath and hoped for the best.
Second-five Bill Pile had just side›stepped one defender and hurled himself over the line, while being tackled by two others, to take North Otago to a 14-13 lead against the touring Wallabies. Yes, the national Australian team.
''I can remember getting in front quite clearly . . . and I was looking at the clock and there was 20 minutes to go, and I thought 'this is going to be the longest 20 minutes of my life','' Edmondston said.
''But it went very, very quickly. In fact, when the referee did blow his whistle we were attacking right on our line.''
It was a gallant effort from North Otago, under the astute coaching of Ken McLeod and the captaincy of the late Neville McNee. And when that final whistle went, Edmondston knew they had just achieved the unthinkable, and the celebrations began.
''Not like they celebrate today, that's for sure. I can remember a lot of kids were streaming on to the ground wanting autographs.
''Walking off the ground, we felt that we had created history and as it turned out, that's the way it was, because North Otago will never get the opportunity to play a representative team like that again, the way rugby's structured.''
It was no second›string Wallabies team either — the Australians had been thumping provincial sides on their tour and lost only 3-0 to the All Blacks at Carisbrook four days later.
As Edmondston arrived at the showgrounds for the game, and opened the dressing room door, he was startled to find red jerseys staring back at him.
''None of us had woken up to the fact we were to change jerseys. We hadn't been told, because Australia play in gold as well, you see,'' he said.
It was the first, and only, time Edmondston played for North Otago in red.
Early in the match, North Otago realised it would be a fast›paced match and it needed to adjust.
But Edmondston said the ''furiously bustling and fiery forwards'' — according to the Otago Daily Times match report — cottoned on early to one Wallabies' mistake.
''Possibly it would be their halfback that cost them the match, because he was one-dimensional. He just kept passing.
''That gave us loosies off the back of a lineout another half a second start, because you didn't have to worry about him kicking or running because he wasn't going to do that.
''So we were able to mount quite a bit of pressure on the inside backs and our backs were good tacklers and that's where we probably beat them.''
Edmondston gathered with former team›mates Barry Rooney, Doug Grant, Max Eckhold, Neville Gard, Len Familton and Bill Pile at North Otago's Heartland game against West Coast last Saturday to mark the 60th anniversary of the team's famous win.
''We were local lads at the time and those of us still left on the planet are still in the district. We were a very close-knit team.''
Edmondston, who played club rugby for Excelsior, went on to play for North Otago until 1969. Beating the Wallabies was still his proudest moment, but the toughest match-ups were against Otago sub unions.
''They were very good footballers and damn hard men.''
But through it all, it was the friendships that stood out the most.
''No doubt about that. We were all friends then and we're all still friends today.''