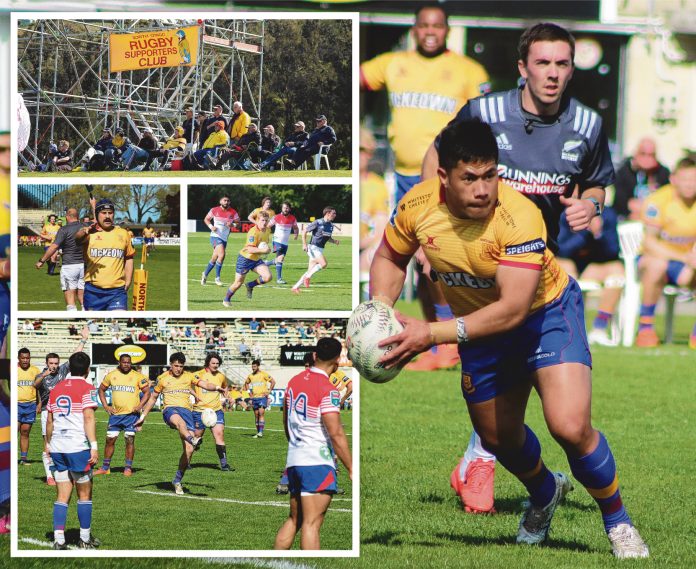 North Otago's season is in its own hands.
After posting its second-highest score in the 89-23 victory against Horowhenua›Kapiti last week, North Otago is back in the playoffs hunt.
But tomorrow will be no walk in the park as the Old Golds travel to Whitianga to take on last year's beaten finalist, Thames Valley.
The Swamp Foxes are on a four-game winning streak, one of the best defensive units in the Heartland Championship, and very disciplined on both sides of the ball.
''These guys are a seriously good side,'' Old Golds coach Jason Forrest said.
''They're very, very good defensively and we're going to have to be very, very good to beat them.
''For us, it's a bit like that Buller game. We had a really good game and then [against] South Canterbury, we didn't quite nail some things off.''
The game would be in ''hot and wet'' conditions — completely different from what the Old Golds were used to —but North Otago is riding high after all players pulled up uninjured after last weekend's home game.
''First game all year we haven't had a season-ending injury.''
It will bring some much needed consistency to the line› up and that paired with the confidence from last weekend's win could be deadly.
The Old Golds snapped their streak of allowing Horowhenua-Kapiti to be its ''bogey'' team and ripped the travelling side apart.
Winger Ben McCarthy scored 29 points, surpassing previous joint record-holder Chris Finch (1998) and Simon Porter (2000), who was at the game celebrating the 20th anniversary of the Old Golds team that won the NPC third division in 2002.
It was great to blend the ''past and present'' players' achievements and Forrest praised McCarthy for scoring the final conversion as a streaker ran in front of him.
The win was big for the team for gaining confidence and proving what it is capable of, he said.
''We needed it confidence-wise.
''Absolutely stoked for the group to really click again.
''When we're on, we're on — it's just about getting that consistency.''
It also shifted North Otago from seventh to fourth place, below Thames Valley, and helped moving into the final three rounds.
Training this week involved reviewing last week's match and Forrest knew it was important to show his team where it could improve.
''At stages we still weren't good enough and that's just our coaches' hat on. ''We had to sort of keep them grounded and that's the biggest thing.''
It was all about preparing for this weekend's match.
''We certainly won't be putting 90 points on them this weekend but if we can take the confidence we had . . . we know it's all in our hands, really.''