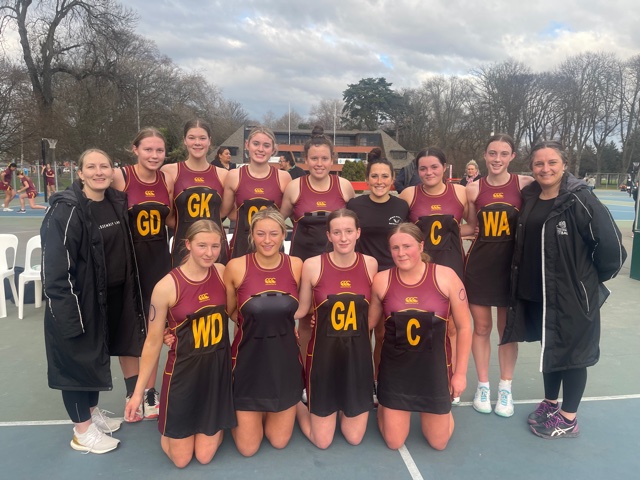 North Otago under-18 netball co-coaches Petra Aspros and Abbey McKenzie could not be prouder of their team.
Heading into last week's Netball NZ under-18 championships seeded 38th out of 38 teams, North Otago ''grew and grew and grew'' as they came up against the best young netball talent in New Zealand, and finished a creditable 32nd.
It was the first time North Otago had competed at the annual tournament for two years due to Covid and then low player numbers. This year, it was held outdoors at Hagley Park in Christchurch.
North Otago's first game was against Eastern Bay of Plenty. McKenzie said once North Otago settled into the game and adjusted to a new level of netball, the side went goal for goal against Eastern Bay of Plenty. But it was unable to overcome the first-quarter deficit, going down 38-32.
Its second game against Pukekohe was another close one, North Otago narrowly losing 35-33.
On day two, North Otago's first game against Manawatu B was a must-win, as the competition was splitting into top, middle and bottom pools at the end of the day, and its next game was against Waitakere 2, which it knew would be tough.
McKenzie and Aspros' goal from the outset was to reach the playoffs for 17th to 32nd. ''That was our aim, so we kind of put it to them that this was the last chance to get there,'' McKenzie said. The players listened and took action, lifting their game to beat Manawatu B 36-35.
''They really did go up a notch.''
North Otago lost its next game against Waitakere 2, 52-18, but took comfort in knowing that the Waitakere side made the final, and finished second overall.
On days three and four, the rain came, and games were played in terrible conditions. North Otago lost to Hamilton City B 37-22, Kapi Mana 34-19, and Thames Valley 31-17. In the last game of the tournament, playing Gisborne for 31st or 32nd place, North Otago had another nail-biter, but lost 24-23.
It was a big week for the North Otago team, playing two games a day and McKenzie and Aspros ''couldn't be more proud'' of their efforts. It was a great group of players, who were all there for the right reasons and knew how to work hard and play hard, McKenzie said.
''We had a heap of fun.''
Co-captains Olivia Mavor and Mya Nicol showed great maturity as leaders on the court — and also had standout performances. Emma Fox was solid in the shooting circle, and Amelia Wilkinson held the defensive end together well, McKenzie said.
This year's North Otago under-18 team was young. All but two players would be able to compete at next year's national championships, and McKenzie was ''really excited'' about their potential when the tournament is played in Hamilton in 2023.
''My biggest hope is that they've come away going, 'Man that was such an awesome week' — that they actually loved it and they want to do it again. Because at the end of the day, that's what our job is — it's not about winning it's about making sure these girls keep playing netball.''
McKenzie enjoyed coaching alongside Aspros. They coached the North Otago under-16 side together last year, and had similar coaching philosophies and values, having grown up being coached by the same people.
They also had great support from sponsors and parents, which made it all possible, McKenzie said.
''We couldn't do it without them.''