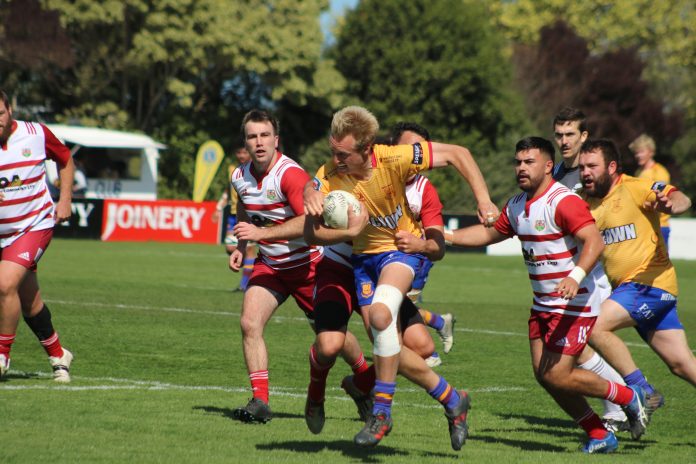 North Otago is preparing for its own Rugby World Cup.
The Old Golds need to shake off last week's match against West Coast and take a fresh approach as the team travels north to play King Country, in Taupo, tomorrow.
There is plenty on the line too. It is the final round of the Heartland Championship — a win secures a top›four finish — and the Maroon and Gold Cup is up for grabs.
Coach Jason Forrest said he was treating the game as a quarter›final, and his team needed to get up for the challenge.
''Literally, three games left — quarter-final, semi-final, final,'' Forrest said.
''We're sort of treating it like a Rugby World Cup-type thing.
''That's hopefully the mindset we'll go into on Saturday.''
The two teams met in an annual pre-season clash in August, where North Otago took the spoils 26-24 in Taupo.
But other than playing in the same venue, there are no similarities between the games, as King Country sports a relatively new-look side.
After dropping its first three games, King Country is on a three›game winning streak and will be wanting to push North Otago all the way.
''They're full of confidence at the moment.
''They'll be right up for this game [at] home, which is going to be tough for us.
''We certainly won't be going up there disrespecting them like we did with West Coast, that's for sure.''
The Old Golds need to go back to basics — hold on to the ball, build phases, take the points, when on offer — and not try to be too fancy, which they were guilty of against West Coast.
North Otago won 26›19 against West Coast, and after playing some really good rugby to go up 19-0 in the first 20 minutes, it let the game slip away.
''Just took our foot off the throat and just let them right back into that game by just, I don't know, going away from structure, going away from how we'd trained.
''They brought the heat on us. We got what we needed to get out of it but very lucky to do so.''
Tini Feke, who moved from halfback to second›five, scored an early try, followed by winger Mone Samate adding to his try tally. Ben McCarthy scored a lovely 65m individual try, and converted it to lead 19›0. Junior Fakatoufifita scored in the second half.
Forrest expected big flanker Seta Koroitamana, who was ruled out with a thumb injury last week, to return tomorrow, and Manu Taiti was also looking hopeful to return.
King Country will be live streaming the game, and Forrest encouraged everyone to ''jump on'' and support the team.